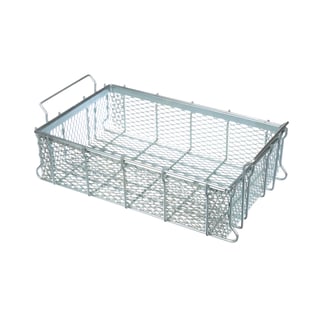 Expanded metal baskets yield plenty of benefits for manufacturers or medical field professionals looking for baskets that combine the tensile strength of sheet metal with their airflow qualities of metal mesh.
Products for medical applications generally need to provide thorough sanitation and cleaning while withstanding harsh chemicals and heat treatments. Expanded metal baskets not only maintain their structural integrity despite caustic environments, but can also deliver superior airflow than typical stainless steel baskets due to their unique design. Learn more about common medical applications expanded steel baskets would be ideal for.
What is Expanded Metal Made of?
"Standard expanded metal" is the name referring to metal as it comes out of the expanding machine. It's sometimes considered an alternative to sheet metal or wire mesh that combines some of the attractive features of wire forms and and sheet metal baskets to provide a combo that provides both strength and airflow.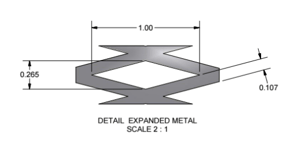 To create expanded metal, sheet metal is passed through a device called an "expanding machine," which is similar to a plate rolling machine. Unlike a plate rolling machine, however, an expanding machine is built with cutting edges that punch holes into the metal plate as it passes through the machine.
While diamond-cut patterns are the most common, the dimensions of the holes in the expanded metal will vary depending on the size and shape of the expanding machine's cutting edges.
After being passed through the expanding device, the expanded metal mesh can either be used as-is or passed through a cold rolling process to create flattened expanded metal mesh. This flattening process makes the strands and bonds of the expanded sheet metal wider and thinner. However, the exact dimensions of the flattened sheet metal is difficult to accurately estimate before the flattening occurs.
What is Expanded Metal Used for?
Since expanded metal is a single piece of material that has been stretched, it tends to be stronger than wire mesh of the same thickness and requires less welding. As a result, it is commonly used for baskets for a variety of medical applications.
Expanded metal offers more open space and is less costly per square inch of basket when compared to sheet metal. It's even more economical than perforated sheet metal, since only very minuscule amounts of the metal are scrapped during the expanding process, as compared to the perforated sheet metal process.
There are plenty of benefits expanded metal offers for various applications. Due to the strong structural integrity of expanded sheet metal, it is commonly used in heavy-duty applications and cleaning processes. However, it is also useful for material handling due to its durability.
What are Expanded Metal Baskets?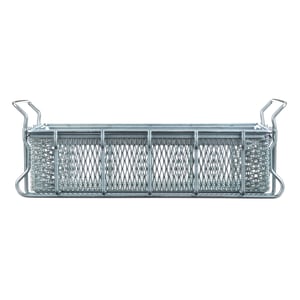 Expanded metal is a common material for baskets who want to combine the best features of wire baskets and sheet metal baskets to provide a combo that is stronger than thin wire mesh and with better airflow than sheet metal.
Besides being more economical and less wasteful than other varieties of sheet metal, expanded metal is ideal for applications where structural integrity is a must. Since expanded metal is a solid piece of material with limited welding, structural integrity is preserved while saving time and money.
Additionally, expanded metal mesh is ideal for heavy-duty parts washing baskets. While sheet metal may prohibit air or fluids from flowing and thin steel wires would not be strong enough to safely hold parts being washed, expanded metal baskets can ensure the components are being safely and thoroughly cleaned.
Top Medical Applications for Expanded Metal Baskets
Stainless steel expanded metal baskets suit various medical applications due to their structural integrity, durability, and ability to provide thorough parts cleaning processes. Some common medical uses for expanded metal baskets include:
Parts Washing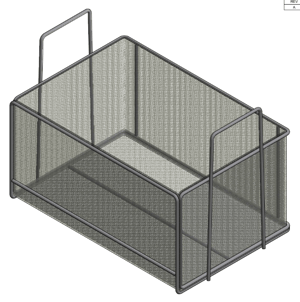 Expanded sheet metal baskets have better airflow than those made with perforated metal and are durable enough enough to safely hold parts being washed. The structural integrity of expanded metal allows it to hold securely even heavy materials.
Degreasing
Baskets for prolonged exposure to harsh degreasing chemicals need to be composed of durable material. Expanded metal baskets are made of stainless steel, which is durable enough to resist chemical corrosion and high heat treatments.
Shot Peening Applications
Shot peening, also known as shot blasting, is used to finish metal parts to prevent stress corrosion. Expanded metal baskets can aid in this process so parts can be designed to prevent material fatigue.
Material Handling
Expanded metal baskets can be adjusted for all your unique material handling needs by custom designing handles for manual transportation or skids and hoists for conveyors.
Storage & Stacking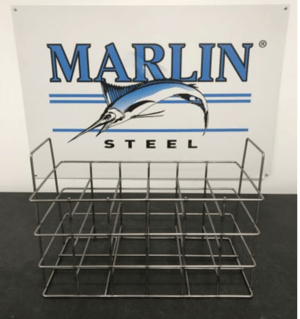 Stainless steel expanded metal baskets can be used for safe storage and can be easily stacked.
Oven Curing
The stainless steel high heat properties allows expanded steel baskets to hold its structural integrity, even during the high temperatures in oven curing.
Acid Tank Dipping
The acidic solutions used in acid tank dipping call for an extremely chemical-resistant basket. Expanded baskets from Marlin Steel can be custom designed to suit the application in mind. While stainless steel has corrosion-resistant properties, specifically chemical-resistant stainless steel alloys can be used for baskets in particularly harsh environments.
Inventory-Counting
Since Marlin's expanded wire baskets have openings on the side, they give visibility into what the basket contains and what is not, expediting inventory-counting.
Interested in learning more about expanded sheet metal baskets and whether it would be suitable for your medical applications? Reach out to the Marlin Steel team today to discuss your custom basket needs.