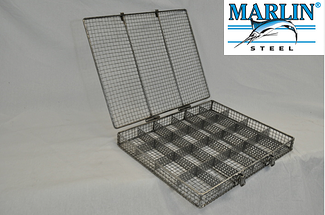 As a manufacturer of wire forms for a variety of washing processes, Marlin Steel has plentiful experience in making both custom-fit wire forms and general use baskets.
In a recent job for a client who needed parts holding baskets to hold both large and small parts through a wash process without taking up too much floor space, Marlin Steel's engineers had to get a little creative. On the one hand, the client needed baskets with enough interior space to hold big parts. On the other hand, the client also needed baskets with small, confined spaces to prevent parts from rolling around and becoming scratched or scuffed.
The challenge here was providing both types of baskets without eating up too much space on the client's manufacturing floor. To give the clients baskets for both applications without making them double up on baskets, Marlin Steel's engineers came up with a basket design that could hold both types of parts securely: a basket with a locking lid and removable dividers.
Locking down the Basket's Lid
A key feature of many a parts washing baskets, lids help to make sure that parts cannot fall out during a wash process. When parts fall out, they can get damaged or even cause the machine that you use to process parts to jam or fail, setting back production.
There are many different ways to secure a lid, from using snap-shut designs to clasps and latches. For this particular design, Marlin's engineers opted to use a latch system. These latches are typically easy to open, but will stay securely fastened throughout all but the most extreme stresses during a wash operation. When fastened securely with a well-built latch, a basket with a lid can be flipped upside-down and not open up accidentally.
Reasons to Use Removable Dividers
By using a basket with removable dividers, the client's needs for both types of parts could be met with a single basket design. There are a few reasons to go with a parts holding basket design that employs a removable divider, including:
Versatility. With a basket that features a removable dividers, you're basically getting two baskets in one. This way, the same basket can safely hold both large and small parts safe and secure.
Easier to Keep Track of Baskets. Every time a manufacturer adds a new basket for their parts handling and wash processes, that's another layer of complexity in the process. While having individual, purpose-built baskets is a great idea for some product lines, making employees sort through ten different kinds of parts baskets can take time, which reduces productivity. With a multi-purpose basket that has a removable divider, workers can take one basket that is useful for either line of parts and save time sifting through piles of baskets trying to find the right one.
Ease of Maintenance. With a removable divider, you can take a basket apart for cleaning if necessary to your process. When baskets are easier to maintain, they often last for longer, as proper care steps such as cleaning off debris is less likely to be skipped.
Building a Versatile Basket for Parts Washing/Handling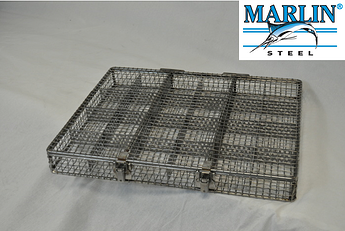 With this particular basket design, Marlin's engineers went with an open wire mesh basket design. The best part about wire mesh is that it is very easy to control the amount of open space there is between each wire. By giving this basket plenty of open space, cleaning solutions can reach the parts inside more easily, and drain away more completely in less time.
Another benefit of using wire mesh for this basket is that the rounded wires don't allow as many chemicals to settle on the basket as perforated sheet metal fabrications would. When dealing with wash processes that involve strong solvents, this is a great way to minimize wear and tear on the basket as well as exposure of manufacturing floor workers to said solvents.
For the divider in the basket, however, Marlin Steel's engineers decided to use perforated sheet metal instead of wire mesh. With the outer basket being comprised of wire mesh, there was already plenty of room for cleaning solutions to reach parts easily. The goal with the divider was to keep parts securely separated and to make removal and replacement quick and easy.
By using several lengths of perforated sheet metal and welding them into a single large piece, Marlin's engineers were able to make the divider both durable and easy to remove or put back into the basket. As a manufacturing material, a sheet of perforated sheet metal has more structural integrity than thin wire mesh, and the solidity of the sheet metal makes it easier to handle than a divider made from many pieces of wire mesh would be (more surface area = better grip).
With less open area than wire mesh, perforated sheet metal made for a better choice as a divider for small parts. By minimizing open area between compartments in the basket, edges of parts are less likely to poke through openings in the divider to scratch or damage other parts.
Thanks to semi-universal design of the basket, the client who ordered it will be able to use it for years to come on a variety of parts both large and small.
Learn about how your production lines can benefit from the use of multipurpose baskets with removable inserts today!