On October 6, the World Trade Center Institute (WTCI) will be holding an event titled "Is Globalization Dead? Or Alive, Well, and Rapidly Evolving?" at the Center Club in Baltimore from 3 pm to 5:30 pm. Marlin Steel's Drew Greenblatt was invited to share our American Reshoring perspectives along with the President of BD and McKinsey.
Information About the Event
This event is part of WTCI's 2022 AGILE Series and will be for both in-person and virtual attendees. The panel will spend 90 minutes discussing the topic of globalization, or the operation of businesses on a global scale, with a networking reception to follow.
Despite concerns that globalization is in decline, worldwide trade actually hit a record high this year in volume index. Digital globalization is increasing as well, enhancing opportunities for continued world trade growth. In this session, you will learn about topics such as:
Importance of diversification within your supply chain
Onshoring operations
Regionalization
Industry transformations for a digital world
Data security
Sustainability
Dependability
Specifically, the panelists will provide insight into how business leaders can adapt to ever-changing global operations and leverage globalization benefits for sustainable company growth. Register for the event today to learn more and hear about Drew Greenblatt's experiences with globalization.
About WTCI: Empowering Business Leaders
WTCI is a network of over 3,500 companies, government agencies, academic institutions, and other organizations. Since 1989, it has aimed to empower globally minded leaders and emerging professionals in the Mid-Atlantic region's business sector, connecting them with their peers and innovative ideas to inspire, drive growth, and promote a thriving economy. The Baltimore organization focuses on:
Worldwide business
International affairs and security
Innovation
Leadership
Sustainable and environmentally friendly business practices
Diversity, equity, and inclusion
The organization promotes these core issues through fellowship, membership, global exchanges, and events like this discussion with the goal of creating a better world.
About Drew Greenblatt and Marlin Steel Wire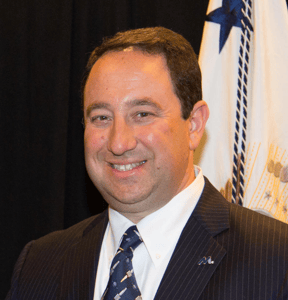 Drew Greenblatt earned a BA at Dickinson College and an MBA in finance from Tulane University in its A.B. Freeman School of Business. He has since become an experienced public speaker, a supporter of U.S. manufacturing, and a trusted leader in his field, winning an International Business Leadership Award from WTCI in 2011.
Greenblatt has testified in front of the U.S. Congress and Senate about small businesses, taxes, steps to promote economic growth, and policies on trade and other regulations. He has served as an advocate for small businesses and the U.S. manufacturing sector, meeting with Presidents Clinton, Bush, Obama, Trump, and Biden to promote related policies.
When Greenblatt bought Marlin Steel Wire in 1998, it was a time of declining demand for the company's product: bagel bins. Rather than shut down, Greenblatt pivoted the business' focus. Today, Marlin Steel Wire is proud to offer wire baskets, material handling baskets, and sheet metal-fabricated products that are 100% USA-made with only American steel. The company's clients range from automotive and construction equipment manufacturers like Toyota and Caterpillar to medical customers like Pfizer and aerospace businesses such as Boeing.
Under Greenblatt's leadership, Marlin Steel Wire developed from a humble manufacturer of one product type into a global leader in wire products, exporting to 43 countries around the world with daily shipments to Canada and Mexico. In recent years, despite the effects of COVID-19 on businesses, the company has celebrated four consecutive years of over 20% growth through its "quality, engineered quick" philosophy.
Greenblatt believes that to grow a business into a global organization, you must first start at the roots, which means investing in your employees. Through effective cross-training, an incentive program, and clearly defined goals, Greenblatt has set up a path for success that aligns employee satisfaction with company success.
Visit the Marlin Steel Wire website to view our video and learn more about how the company has grown into a global leader in wire products.
Register Today for WTCI's October 6 Event
The WTCI event on October 6 is an opportunity for Mid-Atlantic business professionals to expand their knowledge of globalization and its part in the rapidly changing U.S. business sector. Register for the event today to take part in this important session, or contact our team at Marlin Steel Wire with any questions.