Mobile carts transport a large amount of heavy parts, tools, or materials to different places. They are useful for a wide range of purposes in many industries. Most often, rolling utility carts are used in the manufacturing industry to make transitioning from one process to another simple.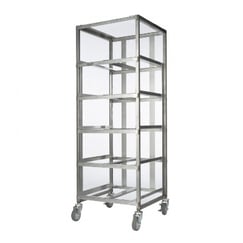 The problem with many rolling carts is they may not be able to fit your products or materials. That is why Marlin creates custom carts to best suit your needs.
Here are some of the ways rolling carts improve production and the aspects you should consider before customizing your cart with Marlin Steel.
How Rolling Carts Improve Production Processes
Here are three ways stainless steel rolling carts improve your production process.
They Offer Easy
Transportation.
The combination of fixed and swivel casters on the wheels make the cart stable when needed, but also easy to move when needing to transport your materials at a moment's notice.
These heavy duty carts are strong enough to handle the pressure of heavy loads while easing transportation.
They Provide Shelves for Stacking Storage Items.
Marlin's rolling steel carts include shelves that you can use to stack your materials in bins or directly on the cart. The ability to stack your materials on the steel cart saves you from having to make several trips.
Custom stainless steel carts with wheels come with a variety of shelves and shelf sizes according to your needs.
They Maintain Sanitary Conditions.
Food-grade stainless steel helps pharmaceutical and food manufacturers maintain sanitary conditions during transport. Marlin's stainless steel rolling carts are often treated with an extra polymer coat that makes them resistant to airborne particles such as dust.
This means that if you use food carts, you can carry food materials safely without the threat of dust particles transferring into them.
The rolling stainless steel carts also come covered or uncovered. A covered cart can prevent outside air contaminates from getting onto your products. An uncovered cart can provide enough open space to allow your products to dry between processes while minimizing the risk of contamination.
5 Things to Consider When Ordering a Custom Rolling Cart
Here are five aspects for you to consider before you finish your purchase order for a custom rolling cart.
1. Dimensions of Trays and Baskets You Use
Make sure you know the dimensions of the baskets and trays you'll be using for the carts. Once you measure your trays and baskets, you can select the proper dimensions for your rolling cart.
You want to make sure your trays and baskets fit on your cart so you can stack your materials and products on your carts to maximize space.
Marlin also provides custom wire baskets that can accommodate your needs and fit perfectly on stainless steel carts.
2. Types of Chemicals You Use in Production
If you select the wrong material type for the chemicals you use, you may notice the cart wearing a lot faster than normal. This is because some chemicals may disintegrate or damage your cart when they come into contact with it.
Marlin carts come in plain steel, Inconel®, and stainless steel. Check your chemical list to make sure they are safe for the cart material you choose.
3. Maximum Load Weight
Research the load capacity of the carts you are interested in to ensure you can transport all your materials without the risk of a cart collapsing or the casters malfunctioning.
You may also consider the weight of the items you will be transporting on the cart. This way, you know exactly how many items you can put on one cart.
4. Exposure Temperatures
The custom cart material you select should be able to handle the temperatures of the materials you are placing on them or the temperature in which they will be stored.
Checking the exposure temperature limits for your carts will ensure they remain in tact for years to come. For instance, Marlin's grade 330 stainless steel can be exposed to temperatures up to 1,900 °F (940 °C).
5. Unique Functionality Requirements
Consider exactly how you will be using your carts. For example, you may need them for storage or for transporting products up and down ramps or across manufacturing plants.
In some cases, your cart may be easier to use if you customize your carts with handles, coverings, or drainage. With customization options, you can create the perfect stainless steel rolling cart for each function in your organization.
No matter what your needs are, you can ensure Marlin Steel's highly qualified engineers will provide the best rolling carts for all of your teams, delivering the ideal solution that aligns with their unique preferences.
How to Order a Custom Cart From Marlin Steel
Marlin Steel's carts work well in a variety of manufacturing industries. If you are interested in an American-made mobile cart that fits your needs, Marlin Steel can help.
Each cart can be customized with different materials, parts, and dimensions to meet your requirements. Start your custom cart order by contacting Marlin Steel today!