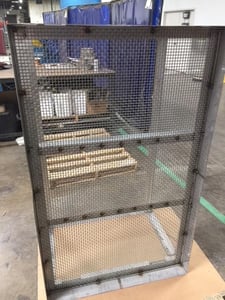 When considering warehouse and manufacturing space design, one of the most important aspects is looking at how the space is used and how people and objects move through that space. That movement, and the design needs around it, are considered vital because not only can it improve efficiency and safety, but it can also prevent unnecessary parts damage if items need to move through tight spaces.


It's also worth considering what other tools and products are available to facilitate these goals as well and one of those items is a stainless steel rolling cart.
Quick Links
What is a Stainless Steel Rolling Cart?
Stainless steel rolling carts are, typically, multi-leveled carts for transporting loads of varying weights in a wide variety of situations. In factories and production facilities, they can assist in the movement of heavy parts as part of the parts finishing process, washing process, or even during production itself. Either robotically MiG welded or tig welded, these carts are designed to be durable, strong, sterile if needed, and utilize fixed or swivel casters for easy movements. These carts can be a boon to the speed, efficiency, and safety of your facility.
Top 4 Reasons to Use Stainless Steel Rolling Carts
As noted above, increasing safety for both your parts and workers is one of the primary reasons to use a stainless steel rolling cart.

1. Easy movement- Whether it's hoist hooks on top or the forklift friendly design, the entire cart and its content can be picked up to be transported without risking injury or parts damage. Marlin's stainless steel carts can carry baskets and racks so they don't have to be toted around individually straining employee's backs and to protect the goods within.

Further, easy gliding casters on each cart means, with less than 30 pounds of force, the carts move easy. These carts are OSHA friendly and prevent back strains.

2. Ease washing/dipping processes- Not only does the hoist hook enable easy movement, but the caster platform can be decoupled so all the baskets/cart can be hoisted into a dip tank in one shot rather than individually. Less material handling means you're less likely to have parts to fall out, go missing, or be left out of the dipping process. Again, this is about quality control and improving your manufacturing efficiency.

3. Security and safety- We've already touched on how the carts can prevent worker injury and protect the parts from damage as they're being moved around. However, there's an additional element of safety and security and that's how each basket is securely constrained in the cart so it does not pop out. Loose baskets can cause injury to employees, damage parts, and be quite costly in terms of safety costs and slowing production.

4. Quality and inventory control- Each cart can utilize a numbering system so the baskets can be held in kits. This unique widget ensures that just the right amount of product is produced consistently. As a result, you don't end up with too much of one component and not enough of another. Consistent production and inventory control save you time and money.

4 Applications of Stainless Steel Rolling Carts Based on Industry
It's easy to see why a manufacturing facility might want to use stainless steel rolling carts, so let's take a look at how they're used in various industries.
1: Industrial Manufacturing and Stainless Steel Rolling Carts
Stainless steel rolling carts have a number of uses in industrial settings. One of the most common uses in industrial manufacturing settings is to move extremely large or heavy parts from one point to another—acting essentially as a basket with wheels.
Another key use for rolling carts in an industrial setting is to act as a portable drying cabinet for manufactured parts. By loading a cart with baskets and trays and then moving it around, the parts in the cart have a chance to air dry efficiently. Rolling carts designed for this purpose often intentionally leave extra open space between the baskets or trays they carry to help improve air flow.
Industrial-grade rolling stainless steel carts are often made to survive heavy loads, rough impacts, and extreme temperatures. So, they may be heavier in construction than other rolling cart types.
2: Rolling Carts and Food Manufacturing Processes
Many companies in or related to the food manufacturing industry use stainless steel rolling carts on a daily basis. In food manufacturing plants, rolling carts provide an optimal solution for moving freshly-prepared products as they cool off.
In the food industry, rolling stainless steel carts often use a removable cover to prevent contaminants in the air from reaching food products as they wait for final packaging or processing.
For example, donut shops often put their daily supply of donuts in mobile carts with covers, and move these carts from their storage/baking area in the back of the store to the front to resupply their donut displays. By putting their trays with donuts in a large covered cart, shop employees can move all of the donuts they need to restock at once instead of having to make dozens of trips back and forth for each type of donut they need.
3: Sanitary Pharmaceutical and Medical Manufacturing with Rolling Carts
In sanitary manufacturing processes for pharmaceutical and medical products, rolling carts are often useful for moving parts between processes while minimizing the risk of contamination.
A covered stainless steel rolling cart can prevent particulates in the air from coming into contact with freshly-made or sterilized medical components, helping them to remain sterile when being moved. Additionally, the open space inside of a rolling cart allows medical and pharmaceutical products to dry efficiently between processes.
Another use for medical stainless steel rolling carts is to act as a mobile cabinet for medical instruments and equipment during clinical development trials. In such trials, development personnel might need access to a wide variety of tools and equipment—which the rolling cart makes much easier to carry between workstations.
4: Using Rolling Carts as Mobile Storage for Non-Stackable Baskets
One other use that some companies have for stainless steel rolling carts is as a mobile cabinet to hold baskets that aren't designed to stack (or would be too heavy to safely stack when loaded).
By mounting heavy or irregularly-shaped baskets into a custom stainless steel cart, those baskets can be safely stored in a smaller area than they would be if left spread out over the factory floor. This helps to free up valuable floor space for more manufacturing equipment.
Marlin Steel has years of experience in manufacturing custom stainless steel metal forms for different applications. While there are standard carts available, Marlin has never shied away from, and prides itself on, custom needs.

If you need help improving your manufacturing processes with a custom stainless steel rolling cart solution? Reach out to the Marlin Steel team to get started.