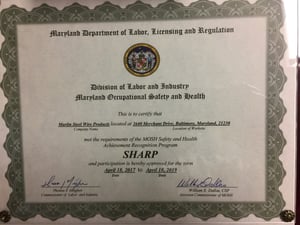 The Maryland Occupational Safety and Health (MOSH) has approved Marlin Steel Wire Products for the Safety and Health Achievement Recognition Program (SHARP) designation for another two years!
Marlin Steel first earned the SHARP designation in 2015, following a multistep process in which Marlin:
Requested a consultation visit from the Occupation Safety and Health Administration (OSHA) inspector.
Corrected any and all hazards the OSHA inspector identified.
Implemented and maintained a safety & health management system to meet OSHA guidelines.
Kept the company's lost-workday injury & illness rate below the national average.
To earn this exclusive designation once is an honor, to earn it twice in a row is a true mark of distinction.
How did Marlin Steel earn the SHARP designation a second time? It all starts with:
Maintaining a Culture of Safety and Health
Marlin Steel is absolutely dedicated to maintaining a workplace culture of health and safety. Every worker is not only given safety training, but they're also actively encouraged to find ways to improve safety and bring any immediate concerns forward to an employee-run safety committee.
This helps empower workers to contribute to workplace safety, and informs them that the safety regulations Marlin uses were created with actual employee input—by employees who understand Marlin's manufacturing process and how it works.
To further boost safety, Marlin's workers use factory automation for most heavy metalworking tasks, such as bending, cutting, or welding steel. Rather than risking limbs and eyes to dangerous manual labor tasks, workers can simply program a machine with the right parameters and let it do the heavy lifting.
These strategies were so effective at improving worker safety for Marlin that the company went from an accident every few months back in the 1990s to going more than 2,300 days without a time-lost workplace safety incident.
The Benefits of High Safety Standards
Because of Marlin's focus on workplace safety, employees are able to avoid time-lost safety incidents—keeping productivity up by preventing unexpected loss of capacity. Also, employees can rest secure in the knowledge that they have a safe work environment, allowing them to focus on finding new ways to enhance efficiency or make products better.
Marlin is able to retain great workers for longer, since workers aren't suffering debilitating injuries that take them out of the workforce.
For Marlin's customers, Marlin's long track record of safety means reliable delivery of goods without the hassle of lost-time and injury related delays.
Safe workplaces help make sure everyone wins, which is why Marlin constantly strives to be the safest manufacturer it can be.