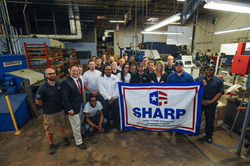 For a worker to be engaged and motivated to work his or her best, that worker first needs to be secure in the knowledge that they're working in a safe and reliable environment. Marlin Steel's dedication to providing workers with a safe, secure work environment has helped to prevent workplace injuries and keep productivity high.
In fact, Marlin Steel was recently recognized by the Occupational Safety and Health Administration (OSHA) for excellence in providing a safe work environment for employees. In a short ceremony, Secretary Kelly M. Schulz of the Department of Labor, Licensing and Regulation presented Marlin Steel with a Safety and Health Achievement Recognition Program (SHARP) award to commemorate Marlin's efforts, making Marlin Steel the fifth business in the state of Maryland to earn this distinction.
How did Marlin Steel earn this honor? What steps are there to becoming a SHARP award-winning company?
To help answer these questions, here is a short checklist of items from the OSHA.gov list of requirements for participation in SHARP:
Request a Consultation Visit that Involves a Complete Hazard Identification Survey
Before you can apply for SHARP status with OSHA, you first have to pass a comprehensive inspection.
In this hazard identification survey, an OSHA inspector will go over the employee health and safety risks that may be present in your factory, giving you a chance to create a safer work environment by removing or remediating the safety hazards.
During this visit, you should do everything you can to involve employees in the consultation process. Employees are usually more familiar with the day-to-day minutiae of your production process, and may be able to find fixes to issues that the OSHA inspector might point out. Odds are the fixes suggested by your own employees will be less disruptive than ones suggested by someone who isn't familiar with your production process.
Correct All Hazards Identified by the Consultant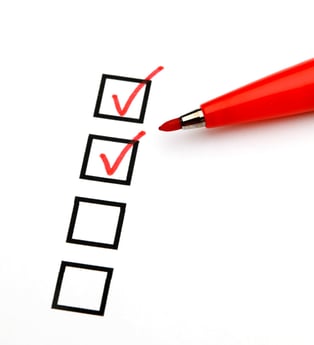 After the inspection is over, the consultant inspecting your worksite will forward you a copy of a report noting any and all hazards that they noted during their visit. Each and every item on this report needs to be thoroughly addressed in order to qualify for OSHA's SHARP award.
Naturally, the steps you need to take to correct a hazard will depend on the nature of the hazard and your production process.
For example, if the hazard is exposed chemicals, then fixing it might require you to cover any vats of chemicals when they aren't in use, or providing chemical hazmat gear to workers, improving ventilation in the area(s) where the chemicals are used, or any combination of the above. Other issues might simply require maintenance, such as repairing worn/damaged railings on walkways.
Implement and Maintain a Safety & Health Management System that Meets OSHA's 1989 Safety & Health Program Management Guidelines
As a manufacturer, you're probably already taking care to follow the guidelines set forth by OSHA for basic workplace safety. However, a quick refresher on OSHA's Occupational Safety and Health Standards can never hurt.
Keeping up with the standards when new rules are introduced is a vital part of becoming an OSHA-certified business. Here, having a legal expert go through OSHA's standard and reviewing what any changes mean for your business can be an enormous help.
Reduce Your Company's Lost-Workday Injury & Illness Rate (LWDII) & Total Recordable Case Rate (TRCR) Below the National Average
Having safe practices on the books doesn't mean much if they don't actually make your workplace safer. To qualify for SHARP, your company needs to be able to reduce the occurrence of workplace injuries and illnesses to less than the national average.
This can be a tall order, as it calls not only for good safety practices in your work environment, but for good hygiene practices as well. Many employers do a great job of preventing physical injuries from worksite hazards, only to miss important illness hazards such as chemical vapors or even just the transmission of germs/viruses in the workplace from unsanitary objects.
If you review your company's past injury/illness event logs, you should find entries for the cause of the injury or illness, which you can use to improve health and safety conditions for your worksite by resolving the underlying cause.
This process can take a long time, especially when hazards such as chemical vapor exposure are the root cause, since symptoms can take years to fully manifest after exposure for certain events.
The Benefits of Manufacturing Safety
The road to SHARP safety status is a long one, but it is well worth it, as the increased safety that comes with enacting the practices required to meet SHARP standards prevents time-lost safety incidents, keeping production rolling smoothly every day.
So far, Marlin Steel has gone more than 2,350 days without a time-lost safety incident, that's several years without a major workplace injury. This enables Marlin Steel to stay consistently productive, avoiding the delays that unsafe work practices invite. In short, safe work practices are a part of what enables Marlin to deliver "quality, engineered quick" to its clients.
Even better, Marlin is able to keep its employees long enough for them to become highly experienced professionals, providing the benefit of their expertise to the custom wire rack and basket forming jobs they work on.