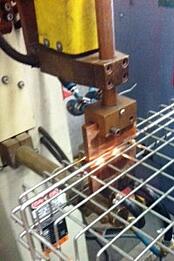 Here on the Marlin Steel blog, we often discuss our custom-made wire baskets and their applications. Using wire bending robots, Marlin Steel's engineers can design and build wire baskets to fit an incredible variety of parts and wash/finish processes.
However, there is more to Marlin Steel than just wire baskets. Here at Marlin Steel, we can craft a variety of other custom metal forms for your needs, including metal racks with casters to hold the wire and sheet metal baskets that hold your parts and products.
What Would Sheet Metal Racks Be Useful for?
As you may have seen in an earlier blog, sheet metal racks with casters are useful for holding wire baskets through a drying process. With the ability to be hand pushed from one part of the process to another quite easily thanks to the inclusion of caster wheels on the base, these racks allow for a large number of parts to be moved at once without being too heavy of a strain for most workers. Wheeled transport of heavy loads makes work faster and more efficient. Also, having multiple shelves to hold parts allows for more items to be moved at once, while also allowing said items to be sorted more easily.
Instead of trying to load many different kinds of parts into a single basket, each part can have a basket that is dedicated to holding that one type of item, while still allowing them all to be moved together throughout your wash or finishing process. With the ability to craft metal racks to meet your specific needs, Marlin Steel can help you replace lost or damaged custom racks or create better, more mobile racks with casters to make moving large loads easy.
Using corrosion-resistant grade 316 stainless steel and specialized polymers allows these racks to survive intense wash cycles. In short, creating a metal rack unit that can accommodate your machined or delicate parts in heat-treat ovens or curing ovens is a simple task.
Whether you want a new rack to be compatible with your existing wire baskets, need a completely new solution for a variety of uses, or just need a heavy duty set of wire racks to help move heavy loads, Marlin Steel can provide the perfect metal rack shelving units and wire baskets for you.
How Marlin Makes the Perfect Rack for Your Job
You might be wondering how it is that Marlin Steel can make the right metal rack for your particular needs. The process begins with a few simple questions. Through these questions, our engineers can collect information such as:
The purpose of the metal shelving rack.
The temperatures the product will be exposed to, and for how long.
The dimensions that the shelving unit and racks should have. This takes into account the dimensions of the parts and other items the racks will hold.
How much weight the final product should be able to hold.
The chemicals that the racks will be exposed to.
Tolerance for sharps, weld marks, and other irregularities.
With the above information, Marlin Steel's engineers can set to work creating the ideal design to hold your parts efficiently without interfering with your wash process, as well as choosing the right materials and coatings to prevent damage to sensitive parts while prolonging the useful life of your metal racks so that you can get the most from your investment.
The final design is incorporated into an AutoCAD file and sent to you for approval, with images representing what your metal racks would look like when loaded and when empty. These images include a top-down view, side views, and an isometric (peeking over the corner) view. These views enable you to verify that your custom wire forms and metal rack units meet your needs before they are crafted.
Once the designs have been verified, our automated manufacturing robots can be programmed to cut, shape, and assemble your racks in hours, not days or weeks. Marlin Steel's automation ensure rapid delivery times and consistent results so that we can deliver quality engineering quick. Learn more about the uses for metal racks with casters by contacting Marlin Steel today.