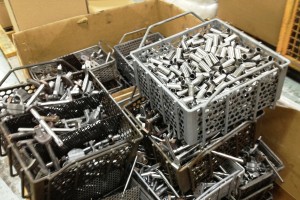 Manufacturing is the backbone of the American economy, and it isn't easy. Manufacturers face numerous challenges in maintaining efficiency and productivity. Every day, factory workers and managers do their best to overcome these challenges.
Part of ensuring an efficient and productive shop floor is making sure that all of the right tools are there for the workers to use. Every tool matters, from the biggest parts washing machines, to the smallest handheld tools. If the tools are lacking, then productivity may suffer.
One particular productivity tool that gets underestimated a lot is the stainless steel basket. These baskets aren't often the focus of any productivity planning, but they can have a significant impact on a manufacturer's throughput.
To prove how important stainless steel baskets are to manufacturing, here are a few instances where stainless steel baskets helped save the day on the shop floor:
Cummins Parts Sustainable Remanufacturing Needs
Cummins Diesel Recon of Memphis, Tennessee has a large-scale parts remanufacturing operation to support their network of dealers. The challenge here was that the remanufacturing process was brutal on their existing parts handling baskets.
Less sturdy baskets would fail, but solid baskets would keep runoff and debris from draining quickly, reducing throughput as parts would need constant rewashing.
Here, stainless steel perforated sheet metal was used to provide the optimal balance of durability, chemical resistance, and air flow to support Cummins' mission of sustainable parts manufacturing by recycling & remanufacturing parts.
These baskets helped ensure faster processing, increasing throughput on the factory floor.
BorgWarner Transmission Module Parts Washing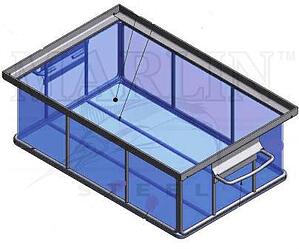 BorgWarner is a global leader in powertrain solutions, making transmission modules for companies such as Chrysler. In their Mississippi facility, BorgWarner needed to make sure that their components were thoroughly washed before final assembly.
Any contaminants on the parts would severely impair their performance. As such, residue was a huge issue—one which could cause parts shipments to be rejected.
Here, a series of Kadon-style baskets made of grade 304 stainless steel was added to the BorgWarner production line to help ensure thorough cleaning. These baskets helped parts get cleaned right the first time, saving on reprocessing of parts and increasing productivity for BorgWarner's shop floor.
Pfizer-Zoetis and the Case of the Fractured Pumps
Zoetis, a subsidiary of pharmaceutical giant Pfizer, is a major producer of medicine and vaccinations for pets and livestock alike. A key component of their production process is a series of portable sterile pumps that are used to transfer medicine into vials.
However, when these pumps were being moved through the facility, different containers would end up causing the sensitive, tight-tolerance instruments to fracture during handling or washing/sanitation processes.
Here, a custom-designed stainless steel basket was created to carefully nest the delicate medicine pumps so that they could be handled easily without breaking them. Additionally, these baskets were designed to allow the pumps to be put through Zoetis' rigorous cleaning and sanitation process.
By reducing fracturing of pumps, these stainless steel baskets helped reduce costs for Zoetis and improve productivity at the same time.
Find out how a stainless steel basket could save the day on your shop floor today!