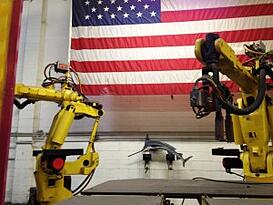 Vice President Joe Biden spoke with me and a roomful of US manufacturing leaders last week regarding his optimism about US Manufacturing. He stressed that the USA is the best place to build things because we have several attributes that differentiate us from the rest of the world:
1. Rule of Law
2. Respect Intellectual Property
3. Vast Energy reserves
4. Innovative Universities and Research colleges
He believes by embracing immigration reform we can help manufacturing because we will have a broader pool of labor we can hire that is legitimate.
When shaking my hand, he shared with me that his grandfather was in the steel fabrication business in Baltimore (like Marlin Steel) but they later moved to Pennsylvania. He thanked Marlin for growing jobs in the USA.
The president is right about some of the USA's strong suits that make our nation great, however we can be better and faster growing. While visiting my Maryland Senator's last week, Marlin Steel stressed that US Manufacturing has a 20% cost obstacle compared to our biggest economic competitors (like Germany and Canada). US factories are burdened with:
1. Higher taxes (40+% vs 15% in Canada)
2. More regulations
3. An out of control legal system
These costs make our manufacturers less likely to win jobs so we will not hire people and end the recession fast. The natural gas revolution is helping US Manufacturing, but it is being constrained. Approving the Keystone pipeline will help grow jobs in our nation.
Vice President Biden is right that we have strong suits, but let's rollback these obstacles so we can hire more people.