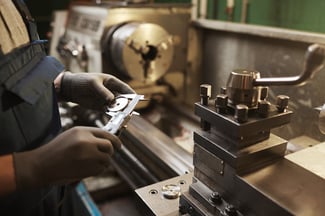 For many manufacturers, the devil is in the details. Many parts require a high degree of precision. So, they need to be put through special production approval processes.
Why use a production approval process? Because of the potential consequences of a faulty production process.
For example, in the aerospace industry, a minute flaw in a single part could spell disaster, causing an engine to fail or a piece of fuselage to peel off. These are the kind of risks that inspired the creation of stringent approval processes for producing parts to be used in these industries.
What is PPAP?
PPAP, or the Production Part Approval Process, is a plan to ensure consistent quality in the creation of a part. The primary goal of this control plan is to identify and quickly counter any factor that could alter the specifications and production tolerance for a given part, such as tool wear or changes in temperature during production.
The Evolution of the PPAP
The PPAP evolved from a process that NASA engineers created to better predict equipment malfunctions after the launch-pad failure of the first Apollo mission. There was a flash fire in command module 012, resulting in the rupture of the command module.
The goal of NASA's process was to prevent the kind of equipment malfunctions that caused the failure of Apollo 1.
This process was further refined by the American automotive industry as a way to streamline and improve its component supply chain. Specifically, the Automotive Industry Action Group (AIAG) developed the system with some input from General Motors, Ford, and Chrysler.
The implementation of PPAPs in the automotive industry helped to ensure that suppliers could provide the requested number of parts within a specified time frame for a specified price while meeting the manufacturer's tolerances.
Over time, other industries adopted the method as a means of certifying a mutual understanding for the performance of parts between component suppliers and purchasers.
What Are PPAP Requirements?
PPAP requirements vary by industry, but there are similar sets of elements that need to be completed during the development, planning, and design of the production process.
For example, the automotive industry has different PPAP requirements than the aerospace industry.
Why is PPAP Used?
The PPAP provides a framework of requirements for the supplier so to ensure that the customer's designs and needs are understood by the supplier. It's similar to a work strategy. PPAP requirements are a direct negotiation between supplier and customer to prove the supplier is able to produce all the parts needed to meet the requirements consistently.
When is PPAP Used?
A PPAP is needed for any new part submission or for the approval to modify an existing part or a process. For example, if a customer wants to have an existing part modified, they would need to request a PPAP.
Suppliers, not customers, are responsible for PPAPs. For a supplier, this means maintaining a quality system that documents all of the requirements of a PPAP submission is a necessity.
What Are the Elements of PPAP?
The required elements for a PPAP vary with each industry. For instance, there are 18 required PPAP elements for automotive PPAP submissions. On the other hand, there is no standardized aerospace PPAP.
However, PPAPs commonly use the following elements:
Design records
Design failure mode and effect analysis (DFMEA)
Records of material and performance tests
How to Use PPAP
A PPAP submission is a complex process. A submission is made up of key elements that must be completed during the production process to ensure the end result will be a quality product. Each particular PPAP requirements are usually negotiated between the supplier and customer.
Submission requirements are commonly divided into five PPAP levels. These PPAP levels indicate which documents are needed and when.
Level 1 – Part Submission Warrant (PSW) only submitted to the customer
Level 2 – PSW with product samples and limited supporting data
Level 3 – PSW with product samples and complete supporting data
Level 4 – PSW and other requirements as defined by the customer
Level 5 – PSW with product samples and complete supporting data available for review at the supplier's manufacturing location
What is the APQP Process?
PPAP is a component of Advanced Product Quality Planning (APQP). The APQP process is used to introduce a new product or a product with modified changes into the market. The APQP process provides that products meet customer expectations and requirements.
PPAP requirements are supposed to support the APQP process. If a product does not meet customer expectations, that means that the PPAP and APQP is not functioning properly.
How Marlin Steel Employs PPAPs
Marlin Steel designs and manufactures custom metal baskets, containers, racks, and other complicated wire or sheet metal forms from a variety of steel alloys and other materials. These custom metal forms are used for everything from ultrasonic parts cleaning, to heat treat processes, to bulk materials handling.
Since failure of the container could risk damage to a customer's parts and equipment, Marlin Steel uses a custom PPAP to vet every step of the production process.
Here, you can see a flowchart detailing Marlin's PPAP:
When clients request a PPAP for the products they order, Marlin Steel uses this flowchart to define every phase of production from beginning to end.
Elements defined by Marlin's PPAP include:
The method for measuring the characteristics of a part
How often parts and machinery will be checked
The high-level risks of a process
The low-level risks of a process
Predetermined response for each risk should they occur
Guidelines for performing measurement, inspection, and handling of a part
Using a PPAP, Marlin Steel is able to accomplish the following:
Maintain design integrity.
Identify issues early and resolve them.
Prevent loss of parts, materials, and time from poor-quality parts, keeping costs down.
Prevent use of unapproved parts, reducing risk of faults on the customer side.
Improve overall product quality and customer satisfaction.
In short, a PPAP is a great way to ensure that the customer receives the parts that they paid for, and for limiting the potential impact of faults in the final product.
See how Marlin used top-quality production techniques to help others meet their own production goals in the case study at the link below: