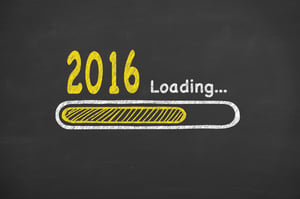 As 2015 draws near its end, it's time for the manufacturing industry to start looking towards the new year. While 2015 had its highs and lows for manufacturers, it's important for American manufacturers to look ahead and start preparing for the new year, and the changes it may bring.
What are some of the changes that the American manufacturing industry might see in the new year? Here are a few possibilities based on recent trends and events:
1: An Increase in the Use of 3D Printed Parts
3D printing, a.k.a. additive manufacturing, is a technology that has been around for a while now. However, recent advances in the technology have increased the capabilities of 3D printers.
For example, technologies such as Selective Laser Sintering (SLS) enable manufacturers to 3D print parts using metals. Dual-extruder model 3D printers even allow the use of two different materials on a single printed object, increasing the complexity of form that a printed object can have.
As this technology becomes more commonplace, and the cost of acquiring a 3D printer for industrial use goes down, you can expect to see more and more of these remarkable devices being used by American manufacturers, particularly for rapid prototyping of parts.
2: More Support/Activism for Promoting Exports
Manufacturers need a market for their products, and while the U.S. has one of the most powerful buying markets, "more than 70 percent of the world's purchasing power is located outside of the United States," according to the International Trade Administration.
With so much purchasing power resting outside the U.S.'s borders, it's critical for American manufacturers to be able to freely export their goods to be able to grow.
As such, you can probably expect to see organizations such as the National Association of Manufacturers (NAM) pushing harder for pro-trade policies and agreements that eliminate obstacles to exporting American-made goods to foreign markets.
3: Increased Focus on Aftermarket Parts Sales
Here's a prediction based on an article by manufacturing.net: According to statistics cited in the article, "American businesses and consumers spend approximately $1 trillion every year on maintaining assets that they already own. Most equipment manufacturers are, at best, currently tapping only 50 percent of the market for parts for the equipment that they sell."
By focusing on the sale of aftermarket parts and maintenance tools for their manufactured goods, American manufacturers might be able to greatly increase their sales and growth opportunities in the coming year.
4: More Companies Will Look for Applicants Who Can Program/Operate/Maintain Manufacturing Robots
Many of the most productive and reliable production lines in America rely heavily on manufacturing automation to get parts completed quickly and consistently. As manufacturing robots continue to become a larger part of the manufacturing process, American manufacturers will need more and more personnel who are qualified to program, operate, and maintain these machines at peak efficiency.
You can probably expect to see more manufacturers put out job offers for applicants with backgrounds in computer programming, mechanical engineering, and similarly tech-oriented disciplines in the future, or offer on-the-job training to instill these skills in their existing workforce.
5: The Internet of Things Will Bring More Production Efficiencies to the Manufacturing Line
According to a statistic cited by manufacturingglobal.com, the internet of things (IoT) "will connect over 30 billion machines in 2020 and create $1.9 trillion of added value by that time."
The important thing for manufacturers is that the interconnectivity provided by the IoT infrastructure will improve important manufacturing tasks such as:
Tracking supply chain progress
Maintenance of machinery
Communication between production and management teams
Workload balancing
Production optimization
Because of the potential benefits of using production data gathered by production equipment hooked up to the IoT, you can expect to see more manufacturers rely on it in 2016 and beyond.
These are just a few of the things that you might be able to expect in 2016. Marlin Steel's staff remain dedicated to providing "Quality Engineered Quick" to clients throughout the world, and some of these developments may just help fulfill this goal.