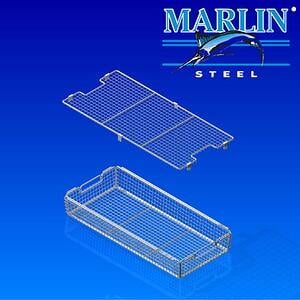 Occasionally, the manufacturer of a particular parts washing machine or cleaning system might go out of business or get bought out by a competitor. When this happens, it can be hard to find replacement parts and washing baskets for the company's old machines.
After MIWI (Midbrook Industrial Washers, Inc.) was acquired by Crown Industrial Services Inc. in 2015, many of their customers were left without a source of parts and compatible manufacturer-made wire washing baskets for some of their cleaning systems.
So, when one manufacturer needed some custom-made wire baskets for their MIWI Hurricane cleaning system, they came to Marlin Steel.
Building a Better MIWI Hurricane Cleaning System Basket
Before Marlin's engineers could set to work building the perfect basket for the client's cleaning process, they needed to know a bit more about the specific application of the MIWI cleaning system.
So, Marlin's team sent over a quick questionnaire. Some of the topics covered in the questionnaire included:
The dimensions of the wash cabinet and the desired basket size (11" X 3.5" and 8" X 10" X 3", respectively).
Types of parts were going to be cleaned (size, shape, and sensitivity to scratching).
Number of parts to be held and their weight (10 lbs.).
Method for moving parts (conveyor belt, in this case).
Chemicals to be used in the cleaning process (soap and other cleaning/coating agents).
Why ask so many questions beyond "what kind of washer are you using?" Mainly to make sure that the Marlin team could make the best possible wash basket for the client's needs.
Yes, knowing the kind of washing machine being used might allow Marlin's team to make some general assumptions about the overall size and shape the basket needs to be. However, knowing the temperatures of the wash process, what kind of parts are being washed, the weight of held parts, and how parts are going to be carried to and from this wash process allows the inclusion of many other design features that can make the baskets more durable and efficient to use.
For example, knowing that the smallest part to be washed would be a bolt only 1" in diameter at the top let Marlin's designers know that the spacing between wires in the wire mesh had to be less than 1" at all times. Otherwise, bolts could fall out of the basket and into the washing machine, leading to delays, and possibly damage.
This would help make for a better basket for the manufacturer's needs than an actual stock basket from the cleaning system's manufacturer.
Quality Control to Ensure Quality Engineered Quick®
Of course, it's one thing to know what processes, chemicals, and loads a basket will be subjected to; it's another thing entirely to know that the basket will be able to hold up under the load.
That's why Marlin's design engineers subject every basket design to a virtual test using physics simulation software. This software allows Marlin's engineers to evaluate how well a basket design will hold up to the stresses of the manufacturing process it will be used in, such as:
Physical impacts;
Strain from full basket loads;
Effects of prolonged exposure to high temperatures; and
Chemical corrosion from the process.
By analyzing these factors, Marlin's engineers can eliminate any major flaws in the design prior to manufacturing the basket. By using virtual physics simulation software, these tests can be done in minutes rather than weeks, and there's less material wasted on prototype baskets.
The end result? The customer was able to get a set of MIWI Hurricane cleaning system wire baskets that allowed them to quickly and efficiently wash their CNC jaws and other components during equipment changeovers that maximized unit uptime and efficiency for their other manufacturing processes.
Need a custom wire washing basket for an older industrial parts cleaning machine from a manufacturer that isn't around anymore? Marlin Steel can help!