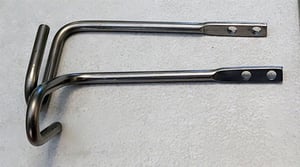 Telecom equipment, especially the cables needed to properly maintain networks and connections, are notoriously sensitive. For that reason, any equipment used to manage or organize those cables must be able to offer control without the risk of harm. For that reason, stainless steel wire cable management baskets and trays are an excellent solution for the industry.

Quick Links
What is a Cable Basket Used For?
Telecom cable installers and those who work with telecom connectivity will tell you that one of the most important aspects of wiring is keeping cables organized. A cable basket is a wire mesh tray that organizes, supports, and stores data cable used in the telecom industry.
What are the Different Types of Cable Trays?
Different types of cables have different needs as do different configurations, setups, designs, and spaces. For that reason there's a variety of different cable trays available to meet each of these needs.
Cable Trays and Troughs
Cable trays can allow businesses to leverage an open back or open top design for easy access to cables. In some cases, a solid bottom stainless or galvanized steel cable tray system is needed to support insulated cables as they can be designed to handle the weight and maximize vertical space usage. In short, trays allow for overhead and ladder type constructions that make use of available space without sacrificing floor space to cables.

In other cases, more openings are required on the tray itself for ventilation or drainage. With either design, cable trays offer the flexibility often required in commercial and industrial settings where cabling may need to be serviced or updated regularly.

In cases where cables need more protection or don't need as much drainage or ventilation, troughs might be a better option as they offer a solid top and bottom while the cables can be fed through open ends. Similar trays have and can be designed to meet the needs of fiber optic cabling.
Cable Management Panels
Cable management panels are a combination of sheet metal and finished wire forms designed to guide and organize cables as they move through areas where they need protection and structure. Typically, creating management panels involves a finishing process that includes a protective coating to prevent cables from accidentally being damaged such as nicks or cuts from exposed metal.
Cable Supports and Rings
While not baskets, cable supports and cable rings can be created in just about any shape needed to organize cabling and guide it where needed, especially if cabling needs to be mounted or travel along/down walls or cabinets. If the goal is to maintain the health of the cabling and the systems it supports, a combination of wire forms and cable supports/rings can assist in protecting as well as supporting the weight of the cable, especially when trying to keep groups of cables together.
3 Benefits of Wire Basket Cable Trays and Racks
Whether it's better to use a basket or a tray depends on the needs of the installation and cabling. However, there are advantages to using one or the other any time there's a need for cabling.
1. Organization
The first and most obvious advantage is that trays and baskets keep cables organized. This isn't just a function of appearance, though that's certainly a benefit. Organized cables are easier to service, easier to swap out, and easier to troubleshoot. In server rooms, cabling impacts performance and disorganized cables may end up leading to slow network performance or excessive wear on a server stack that's not connected properly. Custom cable baskets and trays can prevent those issues.


2. Hiding and Protecting Cable/Wires


Speaking of appearance, when cabling is needed in a business space and runs along walls or floors where it may be visible to customers or clients, cable trays, racks, and baskets can be useful for hiding wires. Further, if cables and wires are used in abundance, too many can be overwhelming in a space and keeping them out of the way becomes vital. Not only does this protect the cables, but it also protects anyone moving around the cabling area or a server room from a potential tripping hazard.

Similarly, if the wires need protection in environments where they may be damaged by elements, moving parts or people, racks and troughs can protect them.
3. Air Circulation
Enclosing cables completely is rarely a good solution for a variety of reasons, but choosing the right rack, tray, or basket for cabling is crucial. In situations where air circulation and heat dissipation is vital, like in a server room, choosing mesh and wire forms is the best option as it protects the cabling, but allows enough air circulation to control temperatures. Overheated cables and infrastructure in technology can be incredibly damaging to both the hardware and the data it stores. Keeping components in a server room cooled ensures the IT reliability and stability businesses need.
Marlin Steel's Custom Wire Cable Management Solutions
As noted above, every cabling situation may call for a different solution. There are a variety of factors and environmental variables that will determine what your business needs. Regardless of the variables, you need your cables to stay organized, protected, and functioning at top capacity. The simplest solution is including custom steel wire cable management baskets or trays for your cabling needs.

Whether it's overhead, under foot, along a wall, in an enclosed space or exposed to elements and potentially damaging materials, the Marlin team is ready to help you analyze your needs, design your cable management solution, and exceed your expectations.

Marlin offers custom cable trays built to be lightweight and unobtrusive to help with cable organization without impeding access to data cabinets. Get in touch with our team today to find out more!