Custom Metal Finishing
When your custom wire forms and perforated sheet metal pieces need to be free of potentially harmful sharps and other deformities, Marlin Steel offers deburring services on custom-manufactured parts. Mechanical burrs can happen from shearing, punching and drilling. Whether it's a decorative finish, a high gloss polish, oxidation, or rubber grinding, our deburring machine can be configured to suit your specific need.
Sharps, when left on materials handling baskets and other metal products meant to be hand-carried from one place to another, become an added injury risk to employees, especially if such employees are not wearing gloves. Removing burrs from metal baskets not only improves their aesthetic appeal, it also improves the safety of the basket for manual handling. Our deburring machine can process all sorts of materials, including:
Printed circuit boards,
Stainless steel,
Plasma cut parts,
Copper, composite materials,
Aluminum,
Ritanium,
Shared parts,
Laser cut parts,
Upformed parts, and
Punched parts.
How Marlin Steel Deburrs Custom Metal Forms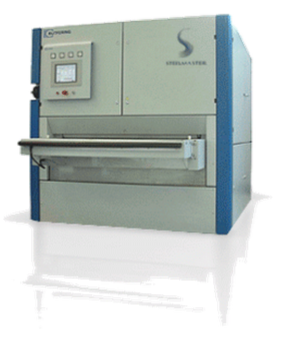 One way in which Marlin Steel reduces the occurrence of burrs and sharps is to weld parts with an advanced medium frequency welder machine that leaves fewer deformities from welding than a traditional welder.
Beyond minimizing the occurrence of deformities in the first place, Marlin Steel uses an advanced Bütfering Steelmaster Prima W 309 RBB Wet Belt Sander to finish parts. Using this automated parts finishing machine, Marlin Steel can create parts with an incredible surface quality.
Technical specs for the Bütfering Steelmaster wet sander include:
37" working width;
1 contact roller unit;
2 oscillating brush units;
Drying unit with double air jets;
Coolant filtration unit with auto-advance paper feed; and
Adjustable height for sanding devices to better conform
to the parts being sanded.
This machine's three brushes and contact roller grind the irregularities from the metal forms placed within, leaving a smooth, defect-free surface.
Marlin also has another deburring machine that it uses to finish its custom steel wire forms—the Timesavers 2200-Series dry deburring machine. Unlike the wet belt sander, this machine doesn't use a lubricant to cool the metal parts being deburred. This makes the 2200-Series run hotter, but also eliminates the need to collect, sift, and recycle lubricant
Some specifications of this deburrer include:
Automatic abarasive belt tracking;
25" wide opening;
15-45 feet per minute (FPM) feed speed; and
1-3 drum or bash type heads with a 30 HP motor.
By adding this machine to its list of deburring options, Marlin Steel is expanding both its capacity and options for deburring parts to meet client specifications.
To further improve the finish of a metal form and remove microscopic flaws, the metal form can be electropolished to eliminate the tiniest of flaws.