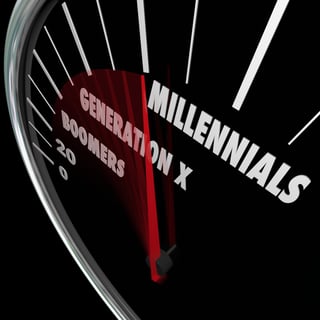 One of the biggest concerns for any company in the American manufacturing industry is finding the right people to fill mission-critical job roles. Because of this many manufacturers, Marlin Steel included, are keeping a keen eye on emerging trends in the American workforce.
So, when a recent survey by the Pew Research Center showed that "more than one-in-three American workers today are Millennials (adults ages 18 to 34 in 2015), and this year they surpassed Generation X to become the largest share of the American workforce," you can be sure that Marlin took notice.
While it was inevitable that millennials would eventually become a larger part of the workforce than their Gen X and Baby Boomer predecessors, the news that millennials now account for 34% of the workforce is still cause for reflection among manufacturers. This is especially true as the baby boomers who once made up the bulk of the workforce start heading into retirement, taking their experience and mission-critical skills with them.
So, with this in mind, how will millennials influence the future of Manufacturing?
Here are a few "best guess" projections based on some data about the millennial generation:
Projection #1: Workers Will Be More Comfortable with Technology
More than any generation before them, millennials were shaped by advanced information technology. As stated in a Whitehouse.gov report on the millennial generation, "While all generations have experienced technological advances, the sheer amount of computational power and access to information that Millennials have had at their fingertips since grade-school is unparalleled."
Having grown up with an ever-evolving set of computer systems and other technologies, millennials are more likely to be able to adapt to new computer systems and technological advances than their predecessors. This makes millennials uniquely-positioned to make the most out of emerging technological trends in the manufacturing industry, such as integrating manufacturing robots into the Internet of Things (IoT) for greater process control.
Projection #2: Larger Portions of the Workforce Will Have a College Degree (but not necessarily one related to manufacturing skills)
Another surprising statistic about the millennial generation from the White House report is that "more Millennials have a college degree than any other generation of young adults. In 2013, 47 percent of 25 to 34 year-olds received a postsecondary degree (associates, bachelor's, or graduate degree) and an additional 18 percent had completed some postsecondary education."
The report attributed this jump in post-high school education to "heightened income inequality between the college-educated and the less educated." In other words, millennials wanted the skills to pay the bills, and saw college as an opportunity to improve their chances of making a living.
However, while more millennials got a college degree than their predecessors, most of these degrees were not in engineering or other manufacturing-related disciplines. According to statistics from the Institute of Education Sciences (IES), "the greatest numbers of degrees were conferred in the fields of business (367,000), social sciences and history (179,000) health professions and related programs (163,000), psychology (109,000), and education (106,000)."
Engineering degrees didn't make the top 5 list of new bachelor's degrees given that year. However, as stated in the IES article, "the number of bachelor's degrees conferred in the combined fields of engineering and engineering technologies increased 10 percent between 2001-02 and 2006-07, and then increased a further 20 percent between 2006-07 and 2011-12."
So, while manufacturing-related engineering degrees might not be quite as popular as other degrees, there is some growth in the field. This is something that manufacturers will sorely need in the coming years as more and more experienced "baby boomer-generation" engineers leave the workforce.
Also, while many of these degrees might not be directly related to manufacturing, the skills these millennials develop in earning their degrees might still be applied to the workplace in unpredictable ways.
Projection #3: Future Workers May Have Increased Multitasking Skills
Here's an oddball projection based on a study by the U.S. Chamber of Commerce Foundation: Millenials are "apt to switching tasks quickly enough to appear to be doing the simultaneously… They are retraining the brain to reduce the performance deterioration of multitasking by increasing the speed of information the brain processes."
In other words, where previous generations of workers would lose a lot of mental momentum in switching from one task to another, creating delays, millennials are highly practiced at this, and can change tasks without nearly as much of a loss of productivity.
This trait could be beneficial to manufacturers who have multiple departments or production lines which require different skill sets and approaches, encouraging increased variation of processes.
These are just a few of the ways that the up and coming generation of millennial workers might affect the future of manufacturing. Without a crystal ball, knowing exactly what will happen is impossible, but Marlin Steel is looking forward to finding out by working with this new generation of workers, and the ones beyond.