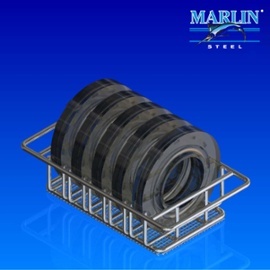 Automotive parts manufacturers have strict demands that they have to meet on a daily basis. Every part they make has to meet tight tolerances, there are often short deadlines to work with, and waste must be kept to a minimum.
QUICK LINKS
To enable the consistent, timely and precise manufacture of automotive gears, manufacturers often have to source a custom basket designed for their specific process. The right basket can help ensure that you:
Meet tight tolerances
Minimize production waste
Keep production on schedule by preventing manufacturing mishaps that lead to reworking or replacing parts.
However, these benefits can only be realized when you source the right baskets from the right steel wire/sheet metal basket manufacturer. The question is, how can you choose the right manufacturer to make baskets for your automotive gear manufacturing process?
Before we get into those answers, let's take a closer look at the metal baskets themselves, and their uses.
What Are Metal Baskets?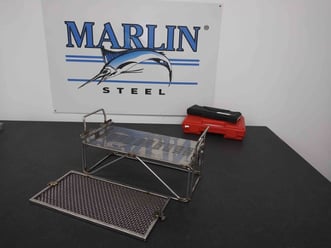 Metal baskets are designed for use across many different industries, including automotive, aerospace, telecommunication, medical/pharma, and food processing. They have many different uses.
In the automotive industry, they are used often used to hold parts or components securely to ensure they're not damaged during transport, heat treating, or the washing process. A quality, custom metal basket can be made to conform perfectly to the shape of a part, ensuring it's protected during these times.
How Are Metal Baskets Used in the Automotive Industry?
Manufacturers in the automotive industry need both speed and precision. Motor vehicles are held to high performance standards to enhance performance and keep consumers safe—and much of that relies on the accuracy and quality of the vehicle parts. Additionally, manufacturers need to keep up with the demand for new vehicles and parts.
If you're wondering, "How can I get the best from my automotive parts production process?" investing in custom stainless steel automotive wire parts and baskets may be the answer for you. Custom stainless steel wire baskets can help you deliver consistent results more efficiently. However, there are five factors to consider when purchasing metal baskets for your automotive factory.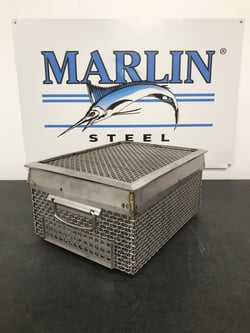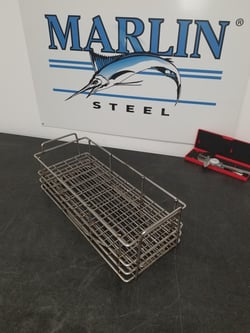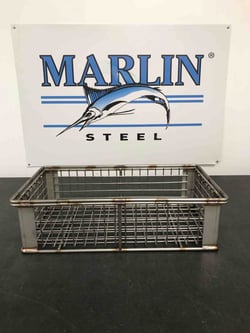 5 Factors to Consider When Choosing Metal Baskets
Considering metal baskets for your manufacturing plant? Here are five factors that can help ensure you choose the right partner:
1. Does the Manufacturer Have a Certified Manufacturing Process?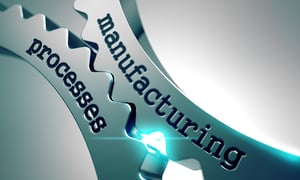 Any manufacturer that you're going to rely on should have an established, certified process for ensuring consistent quality. Without strong quality and consistency controls, or established methods for fixing quality issues, it's hard to know whether or not you'll be getting reliable, high-quality products.
Aside from checking to see that the manufacturer has a certification, it's important to know who provided the certification. Was it a reputable organization, such as ISO, or was it another, less reputable certification entity that you've never heard of?
The certifications a manufacturer holds can be a useful way to assess their commitment to continuous improvement in quality and efficiency.
2. What Automation Does the Manufacturer Have?
Many American manufacturers now utilize manufacturing automation to achieve increased speed, efficiency, and consistency in their manufacturing processes. Automated manufacturing tools can work longer, faster, and more consistently than manual laborers can, granting several key benefits.
For example, a machine that's programmed to make a 45-degree bend in a piece of metal will be able to consistently make that exact bend on every piece day in and day out. This allows for vastly improved consistency and speed over manual methods of shaping steel.
In short, automation means that you'll get much more consistent quality and a faster production timetable because of fewer errors and part reworks.
3. How's the Manufacturer's Safety Record?
Time-lost safety incidents can be enormously disruptive, putting the manufacturer behind schedule and causing delays for the production of your automotive gear baskets. Finding a manufacturer who has a consistent safety record can actually help reduce your risk of getting your baskets late.
4. What Materials Does the Manufacturer Make Their Baskets From?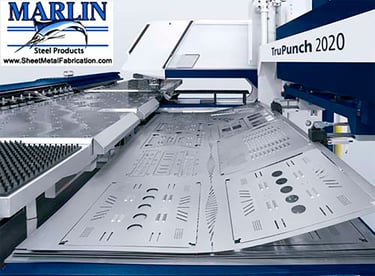 The specific material that a manufacturer uses can dramatically affect how well a basket will work for your manufacturing process. For example, some alloys of stainless steel, such as grade 316 SS, are better able to withstand exposure to the chemicals used in vapor degreasing than others.
A basket made from the wrong materials isn't likely to last for long. Worse yet, if your process causes significant stress corrosion cracking, the basket may fail suddenly and without warning during use, creating a hazard to both your production equipment and your employees.
5. How Quickly Can the Manufacturer Complete and Ship Your Basket Order?
You have your own production timetables to worry about. Waiting for months at a time to get a single order of custom baskets for your production process is not an effective use of your resources.
Finding a vendor that can complete your custom basket order quickly and also has a minimal shipping delay can make a huge difference in your ability to meet your own production deadlines.
To highlight just how severe the difference in shipping speeds can be, Marlin Steel was once contacted by a manufacturer who needed a custom basket solution that had already ordered from an overseas manufacturer. However, a shipping issue delayed the baskets indefinitely. Marlin was able to complete a whole new set of baskets and get them to the manufacturer in just a couple of weeks.
Why Use Marlin's Custom Wire Baskets?
Custom stainless steel wire baskets from Marline Steel can help benefit your automotive parts company in several ways:
Improved Ability to Meet Production Tolerances
Customized ultrasonic automotive parts cleaning baskets can incorporate features that prevent surface damage to more delicate automotive parts, ensuring they meet performance tolerances more easily. For example, if your washing process involves an ultrasonic automotive parts cleaner, dividers can be added to your custom wire basket to keep parts from colliding. Alternatively, basket wires can be made specifically to hold parts in place to avoid collision or ejection from the basket during the washing process.
Reduction in Scrap Production
By preventing surface scratches to delicate parts, custom wire baskets can prevent damage and keep you from having to scrap whole parts or waste time, money, and materials reworking those parts. This helps you reduce waste in your manufacturing process while saving time and money.
Fewer Production Delays
Reworking and scrapping parts requires additional time and labor beyond the scrap produced and material used. Using a custom wire basket designed to prevent scratches and dents that cause parts to need reworking/scrapping helps avoid production delays.
Longer Times Between Reorders
Marlin Steel's engineers test each basket design using Autodesk physics simulation software before the baskets are made. Testing the basket's design and material information can reveal how a custom basket will stand up to thousands of hours of use in a few minutes, and determine if and why the basket might fail. This gives engineers the opportunity to address weaknesses and deliver a sturdier, longer-lasting stainless steel parts container that doesn't require frequent replacement.
General Motors Case Study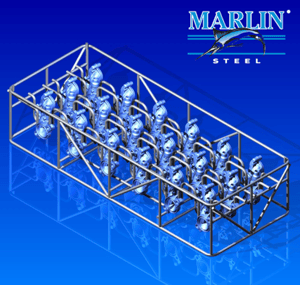 If you're looking for customization, Marlin Steel can make it happen! A GM plant had contacted us inquiring about a unique automotive basket to hold vehicle components during heat treating and liquid penetration application. We worked with them to determine the best finishes and coating, and then quickly got to work, modifying an existing basket to their exact specifications.
Our milling factory employs 147 employees, but we also integrate 400 robots into the production line to ensure precision, efficiency, and consistency that manual labor simply can't match. Needless to say, the client was very happy with the finished product!
Contact Marlin Steel Today
At Marlin Steel, our team is dedicated to "quality engineered quick." Thanks to many of our practices, we're ISO 9001:2015 certified – and 25% of our team are mechanical engineers who go through a detailed QA checklist when inspecting the parts we make to ensure absolute perfection. Our goal is to give you the best product, at the best price, with the best in customer service. Contact us today to learn more.
Examples of Marlin Steel's custom wire baskets for automotive.
Wire Basket
599007

This basket's wire mesh frame keeps small automotive parts secure so they don't escape during the washing.

Material Handling Basket
147009

This wire basket comes complete with a lid and features dividers that keep automotive part separate and secure.

Material Handling Basket
599021

A thick wire frame and a wire mesh base makes this basket sturdy enough to hold weight without interfering in washing.