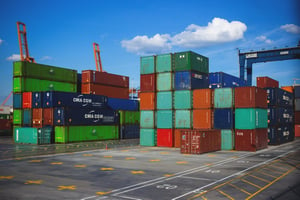 The topic of major drawbacks to buying manufactured goods from overseas isn't a new one for the Marlin blog. In previous posts, issues such as extremely long lead times, customs costs, and miles of red tape for importing/exporting have all been discussed.
But, there's one more unexpected setback of buying parts washing wire baskets from overseas manufacturers: the risk that the baskets ordered might not arrive at all.
Earlier this year, a company reached out to Marlin for a custom wire form design for medical manufacturing use. The company had used an overseas vendor to supply the parts washing wire baskets they needed initially, but the shipping company used went bankrupt.
The shipping company's ships were seized by different navies. Worse yet, the American manufacturer's wire baskets and parts were left on a vessel on the water with little to no details about when (or even if) the shipment would be completed.
Why This is a Major Problem
In the anecdote above, the American company was left without a way to get the goods they ordered or even get a refund—the ships in question had been seized and it's nearly impossible to get reparations out of a company under the jurisdiction of a foreign government.
This puts an unacceptable risk on any orders made with a foreign company. After all, if the shipping company handling the order goes bankrupt and cannot complete shipping, the American manufacturer placing the order gets nothing to show for the time and capital they just spent on it.
This can contribute to delays in production and cash flow issues—even for healthy manufacturing companies.
Consider the following: the average shipping time for a product to arrive from China or another country across the ocean is typically measured in months. At this point, a capital expenditure made months ago will not have made any return on investment.
Even if a refund could be reliably obtained, the loss of capital in the intervening months would have a negative impact, as the business would be forced to forego other opportunities. Worse yet, not getting the parts ordered could hurt productivity, reducing the company's ability to generate revenue.
The Benefits of Ordering from American Manufacturers
When ordering from an American manufacturer, the situation is considerably different.
First, and foremost, when you order from an American manufacturer, you're ordering from a company that is subject to the same rules as you are. This provides a level playing field and helps ensure that you have some recourse for situations where goods aren't delivered (or are delivered in an unusable condition). This translates into better quality and accountability.
Second, ordering from a manufacturer located in the same continent and country as your business helps to minimize your lead time for getting the parts and materials you ordered. The typical time from initial order to receipt of product for a Marlin Steel custom basket order is less than 3 weeks. Overseas orders can spend double that amount of time waiting on an available cargo ship.
By minimizing lead time, ensuring quality, and providing a fair and level playing field for all parties involved, using American-made parts and products can help American companies meet production quotas and get a return on their investment faster.
Don't fall victim to the unexpected setbacks and hidden consequences of using parts manufactured overseas. Get a straightforward, reliable product made with "Quality, Engineered Quick®" right here in the USA!