With the Fourth of July nearly here, we thought it fitting to recount the tale involving Old Glory, Baltimore, the British and the triumph of an underdog.
The creation of the "Star Spangled-Banner" by Francis Scott Key at Fort McHenry in 1814?
No, although that is one great story. We're talking instead about the U.S. flag made of steel wire and sheet metal that a U.K. photographer used to illustrate a recent magazine profile about Marlin Steel.
FastCompany magazine contracted with Mitch Payne, a still-life photographer based in London who specializes in still-life images, often involving technology. The article by Charles Fishman described how Marlin Steel rose off the mat a decade ago to succeed in the global market of building industrial material handling containers.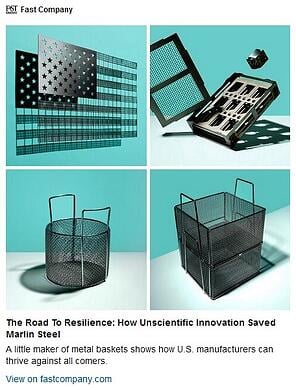 The magazine spread included several dramatized photos of containers we'd built from steel wire and sheet metal and an opening shot of something we hadn't made at our factory in Baltimore: a wire and metal version of the Stars and Stripes. The magazine's photo editor in New York conferred with the U.K. studio and sought a horizontal wire basket with 13 spaces across the bottom to replicate the 13 stripes of the flag. Of all the baskets we make, we couldn't find one the right size with 13. The studio improvised.
Kyle Bean, the art director on the shoot, wrote in an email that the assignment presented a good opportunity to make something from a material he hadn't worked with before. (And that was saying something since his portfolio indicates he's styled virtually everything in the periodic table.)
"The most important thing for the opener was to make a true representation of the United States flag out of metal," Bean wrote. "Initially we toyed with the idea of manipulating an actual basket that Marlin Steel makes, but in the end it made more sense to start from scratch. I used a variety of sheet steel products picked up from my local DIY store. The main part of flag was made from steel mesh. The stripes were made from finer steel mesh and the stars part of the flag was laser cut out of a sheet of steel. This was all then assembled together to form the flag ready for the shoot. Between myself and the art director of FastCompany, we decided that it would be good to shoot the flag against a plain colour backdrop with quite a hard light so that the shadow coming off the flag added an extra level of interest to the image."
The flag art was inspired. And our baskets have rarely looked so vivid -- unless perhaps when viewed by the dawn's early light.