The MBA student had a pointed question for me when I spoke before a class at the Sloan School of Management at the Massachusetts Institute of Technology this week.
Is Marlin Steel interested in environmental sustainability, she asked, and if it is, why did I advocate before Congress for less regulation? It was a reminder that a class of graduate students at MIT can be just as tough as a subcommittee on Capitol Hill.
The class, called "Managing Sustainable Businesses for People and Profits," is taught by Thomas A. Kochan, co-director of the Institute of Work and Employment Research and a professor at the MIT Sloan School of Management, and Barbara Dyer, president and chief executive officer of the Hitachi Foundation, a philanthropic organization established by the Japanese engineering and electronics multinational company. Mark Popovich of the Hitachi Foundation moderated the panel on which I was joined by Mike Mandina, president of Optimax, an optics prototype manufacturer that built lenses used on the Mars rover mission, and MIT doctoral candidate Andrew Weaver.
My answer to the student was that sustainability is very much an important objective for Marlin Steel, and for manufacturing at large, but that all regulation doesn't automatically advance sustainability.
Sustainability at Marlin is pursued in several ways. First, Marlin Steel uses a "closed loop" system in which we purchase recycled steel that was formerly a dishwasher or an old car melted down into sheets or wire. We use that raw material to construct the steel wire baskets and sheet metal enclosures we sell to various industries for use in their own manufacturing processes. Meanwhile, the scrap metal we generate in production is sold to recyclers to become another refrigerator, car – or perhaps someday a material handling basket. Because of its recyclable value, steel is among the most reused commodities. That reduces waste, benefits business and the environment. Like many manufacturers, we have become more savvy in "leaning out" our operation so we more closely measure and reduce scrap.
Second, our location helps make us sustainable. We're located in an impoverished section of Baltimore that is the focus of revitalization efforts by the city government. We were recently ranked among the 100 fastest-growing companies in the inner city across America by the Initiative for a Competitive Inner City. Our shipments to 36 countries around the world begin from the network of existing infrastructure a stone's throw from our plant in highways, rail lines and a major shipping port. That cuts down on energy use and pollution. Our role in helping strengthen an existing community contributes to sustainability.
Third, sustainability – that is, the best use of an existing resource – is foremost a human concept. Revitalizing manufacturing creates good-paying middle-class jobs and helps sustain a great American city like Baltimore. We're focused on establishing an impeccable culture of safety at Marlin: We've surpassed 1,550 straight days without a lost-time accident on our factory floor. That's another sustainable practice.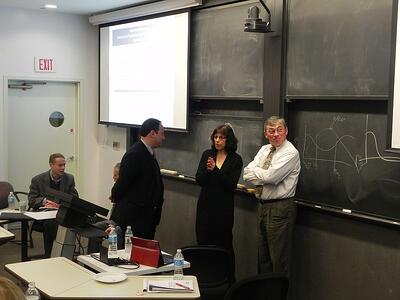 As for the student's question, regulation doesn't always further sustainability. Sometimes, it just fosters complexity. My team needs four times longer to fill out forms when a shipment is going beyond North America, for example. That's inefficient, which makes us less competitive. And if your business is not competitive and not profitable, it certainly won't be sustainable. A resurgence of American manufacturing is good for the environment. I visited China on a trade mission with our governor two years ago. The smog in Shanghai was stunning. We could barely see across the Yangtze River. Smarter regulation helps build manufacturing in the U.S., where the approach is more environmentally sustainable than cheaper competitors in Asia. Regulations may seem infinite; that doesn't make them sustainable.