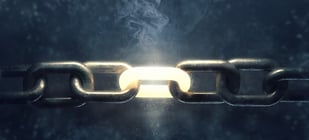 As economies continue to suffer under the COVID-19 pandemic, supply chains are still reeling and attempting to rebuild. This can still have consequences for pharmaceutical manufacturing businesses, who stand at the forefront of the fight against COVID-19. As a result of the supply chain disruptions, the pharmaceutical industry has needed to respond quickly to make up for losses and adjust for the future.
For pharmaceutical manufacturing companies who need to have a reliable flow of supplies, such as sanitizer refills, traditional outsourcing to foreign countries such as China is likely to lead to supply chain disruption and shortages. Domestic pharmaceutical manufacturing can supply businesses with reliable supplies that are safeguarded from the issues that plague outsourcing.
How Has COVID-19 Impacted the Supply Chain for Pharmaceutical Manufacturing Companies?
The COVID-19 pandemic opened up a conversation previously unheeded about the unprecedented amount of reliance American pharmaceutical companies have on China for raw materials and other necessary supplies.
The number of American companies depending on Chinese companies supplying key pharmaceutical ingredients and supplies has doubled since 2010. As a result, these companies felt the strain when there was significant damage to international supply chains early on in the COVID-19 pandemic. Since the virus started in China, it was one of the first countries to initiate lockdowns on the chemical plants supplying Western businesses. The result was supply shortages and problems with transportation as production volume plummeted and lockdowns prevented easy ways to transport goods across borders.
The Benefits of the American Supply Chain
The pandemic has exposed vulnerabilities in international manufacturing supply chains used by American suppliers
By sourcing from the American supply chain, you don't have to factor in problems such as delayed shipping times and supply shortages. There is no concern about countries closing their borders, lengthy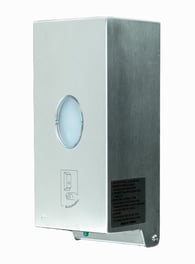 importing processes, and delayed shipments due to supply chain disruptions. For example, when your business runs out of sanitizer for your sanitizer dispensers, you need it as soon as possible. These means within days or even hours. If you outsource the sanitizer from overseas, you could be looking at weeks. This is not only weeks of waiting, but days of your employees not having the proper infectious disease control measures they need.
While there is no perfect solution to overcoming supply chain disruptions caused by an international pandemic, choosing to buy from American-sourced products can minimize these challenges.
With buying American products, you can depend not only on fast shipping speeds, but also the consistent quality that you expect. Countries such as China use ultra-cheap manual labor to manufacture products, which cuts corners on the manufacturing process. American manufacturers meet the requirements demanded of equipment used in the pharmaceutical and medical industry applications.
Additionally, supporting the American supply chain also supports the American economy. By buying United States-based products, you are growing American manufacturing jobs and the industry. As the economy rebuilds from the COVID-19 pandemic, this couldn't be more needed than in a time like this.
How Marlin Steel Can Help Your Pharmaceutical Manufacturing Company Stay Safe During COVID-19
Marlin Steel is an American manufacturing company that has been proud to offer customers products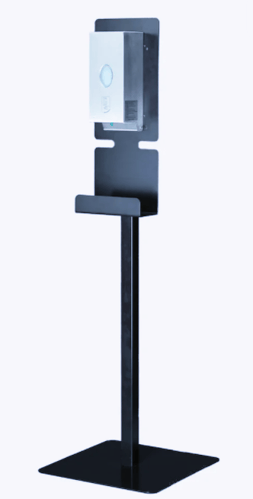 ranging from wire baskets made of American-made steel to infectious disease control solutions.
For American businesses who want consistent quality and reliable speeds for anything they purchase, then Marlin Steel has the solutions for you. During the beginning of the COVID-19 pandemic, Marlin Steel's team of engineers began working hard to design and craft steel forms to help the fight against COVID-19 spread. This included test tube racks, PPE equipment, and hand sanitizer stands, among other things.
Increased Employee Safety
Marlin's no-touch hand sanitizer dispensers and stands provide an abundance of benefits for your pharmaceutical company. Since the COVID-19 virus can spread through infected droplets and touching public surfaces, hand sanitizer stands throughout the workplace can kill the virus and prevent your employees from getting sick and spreading their infection.
Additionally, Marlin Steel provides hand sanitizer refills for hand sanitizer dispensers with the quick shipping speeds you need. If you need a sanitizer quickly to keep your pharmaceutical facility safe, you can rely on Marlin Steel to deliver consistent results.
Changeable Headers
The Marlin dispenser stand is universal and holds a variety of popular brands so your company isn't stuck to one brand in case of a shortage. Dispensers supported by the sanitizer stand include SC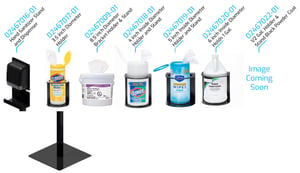 Johnson, DEB, and Purell, as well as Marlin Steel's own automatic no-touch dispenser. Marlin Steel's universal sanitizer stands also can change headers so they can be used to hold Clorox wipes, Purell wipes, 1/2 gallon jugs, or gallon jugs of sanitizer, for whatever your preference may be.
Long-Lasting Quality
Unlike foreign options, both the Marlin Steel hand sanitizer stand and dispensers are manufactured with the most precise measures in the United States and with the highest-quality American-made stainless steel. Stainless steel is a durable metal that can be used countless times and resist damage from use, such as denting and scratching, so it can be used thousands of times by your employees. Marlin's hand sanitizers are built to last through the application demands of them, so you can rely on them to keep your facility safe.
Are you ready to make the switch to American manufacturing that you can trust? Besides hand sanitizer stands and dispensers, Marlin Steel's engineering team has years of experience in crafting custom stainless steel racks, wire forms, and more to meet your needs. Contact one of our experts today to see how they can design one with your specific requirements in mind.