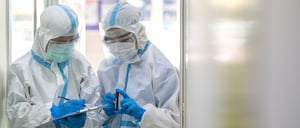 COVID-19 is transmitted person by person mainly through respiratory droplets when a person with the virus coughs or sneezes, according to the CDC. If these infected droplets are inhaled by those nearby, they will also become infected. That is why equipment such as face shields are an integral part of stopping the spread of COVID-19.
Marlin Steel has been doing its part to curb the coronavirus crisis by designing and manufacturing products ranging from custom test tube racks assisting pharmaceutical companies with viral testing, to ventilator machine parts critical for patients fighting for their lives. But that's not all now. Marlin Steel has addressed the need for protective equipment for healthcare workers and now manufacturers face shields that can be depended on for safety.
What is PPE Equipment and Why is it Important During COVID-19?
Personal protective equipment (PPE) is not only key equipment for those on the front lines of COVID-19, but it is also the main barrier of protection for emergency workers. It is necessary for first responders and emergency workers to wear PPE when there is a risk of physical, chemical, or biological hazards. Pandemics, like the COVID-19 crisis, are one such emergency where PPE is needed, but other types of emergencies include natural disasters such as hurricanes and earthquakes, terrorist attacks, biological warfare, and fires.
Though the recommended PPE for a crisis response depends on the event, some examples of PPE include face shields, gas masks, gloves, goggles, insulated and watertight boots, and protective suits. The agent's route of exposure determines what PPE is appropriate for the event; for instance, first responders to a structural collapse disaster will need respirators since dangerous particles can be inhaled.
Likewise, healthcare workers treating COVID-19 patients are recommended to wear face shields to prevent exposure to the virus. Since COVID-19 is spread mainly through droplets released when an infected person coughs or sneezes, face shields are one of the best means to protect staff. When infected droplets land in the noses or mouths of nearby people, whether from touching their face or from being coughed on, they can be inhaled into the lungs. A face shield covers a person's face so that the eyes, nose, and mouth are protected from contaminated droplets, as well as prevents the wearer from touching their face. With face shields, healthcare faculty and staff can continue to do their lifesaving work while being reassured of their own safety.
Why Choose Marlin Steel Face Shields?
When choosing infectious disease control face shields, you want to make sure they are reliable and are able to be worn for long periods of time. Marlin Steel designed their face shields to meet this criteria:
Easy Sanitation
Face shields are built for infectious disease control, so they must be kept sterile. PPE equipment should be either properly disposed of or designed to be easily cleaned. The "spit shield" which protects the face from droplets is designed to be disposed and replaced to ensure sterility and protection for wearers.
Designed to be Worn
Healthcare staff and faculty wearing face shields work long hours battling COVID-19 and saving patients. Not only should PPE facial equipment be sanitary and protective, but it should be comfortable to be worn as long as necessary. Marlin Steel's face shields are built with an elastic attachment and foam forehead cushion for easy accessibility and comfort for wearers. The "spit shields" are also anti-fog to prevent any moisture from inhibiting first responders.
Abides by the Law
Marlin Steel's face shields are designed to keep healthcare workers safe as per OSHA's requirements for infectious disease control. PPE is required by OSHA 1910.1030 to ensure occupational safety and health standards for exposure to bloodborne pathogens. According to standard 1910.1030(d)(3)(x):
Masks, Eye Protection, and Face Shields. Masks in combination with eye protection devices, such as goggles or glasses with solid side shields, or chin-length face shields, shall be worn whenever splashes, spray, spatter, or droplets of blood or other potentially infectious materials may be generated and eye, nose, or mouth contamination can be reasonably anticipated.
With face shields, you are not only protecting faculty and staff, but you are also obeying the law.
Other Ways Marlin Steel is Assists With Infectious Disease Control
Marlin Steel has prioritized contributing to the pandemic response in any way possible. Besides face shields, the engineers at Marlin have developed other high quality products for infectious disease control, including PPE goggles, ventilator components, and custom stainless steel test tube racks for viral testing, These are readily available for hospitals, labs, and testing kit manufacturers quickly and reliably.
Whether you're ventilator parts for those in the hospital battling COVID-19 or face shields for the healthcare workers treating them, all of Marlin Steel's products are made of high-quality materials to ensure the health of patients and their reliability.
Marlin's engineering team has years of experience in crafting custom stainless steel wire forms to fit a wide variety of applications, including those for infectious disease control. If there isn't an available medical tray that meets your needs, contact them today and they can design one with your specific requirements in mind.