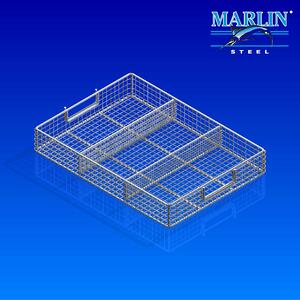 In many of the custom wire basket design requests that Marlin Steel processes, the clients need versatile baskets that can stand up to numerous chemicals. And, these clients may need to hold a specific part in a specific way to ensure that their finishing process is as effective and resource-efficient as possible to minimize reworks.
Recently, a client challenged Marlin's engineering team to create a series of different baskets for a passivation process involving their new ultrasonic cleaning machine. This machine, which would passivate its contents using a variety of different chemicals mixed into a longer ultrasonic cleaning cycle, was slightly different from most multi-stage ultrasonic cleaning systems.
In most systems, the basket would be transferred from one tank to another throughout the parts finishing process—with each tank holding the chemical used for the next step of the process. This system had a single ultrasonic cleaning tank that would flush out the chemicals used in each step before filling with the next chemical in the process.
This meant that the basket would stay in place between wash cycles, which introduced a few wrinkles into the design process. Also, the need to have a different basket design for each part the client was processing added another challenge to the mix—largely because it meant that each design would have to be tested separately.
Reducing Iterations for Multiple Baskets
With this job, one of the biggest challenges was minimizing the design iterations for each basket. Or it would have been, if not for Marlin Steel's investments in advanced physics simulation software.
Where a physical prototype for a basket would require extensive tooling time, a long wait to ship the basket to the client for testing, and weeks or months of actual use, Finite Element Analysis (FEA) software takes mere minutes to set up and run once the design is ready for testing.
Using advanced physics simulations to model the effects of different stresses on the basket design, Marlin's engineering team can quickly identify any deficiencies in a design that could cause it to fail—such as corrosion from acid exposure, bending from weight stresses, or breaking from an impact.
To further reduce design iterations, the Marlin team checked with the client if a multi-chambered basket with some vertical dividers would be enough to hold their parts, or if they actually needed a custom layout for each part to be washed. By using a basket with dividers to loosely hold parts, the client would be able to meet their objectives with far fewer baskets and save money on development costs.
Ultimately, the client was able to narrow down their needs to just two basket designs:
A set of baskets with removable internal dividers for scalpels and other simply-shaped tools; and
A set of baskets with a set of horizontal rods to hold medical scissors and similar implements in place in the "open" position so the cleaning machine could reach 100% of these implements' surfaces.
Delivering Quality, Engineered Quick®
After creating a pair of designs that the client could use for all of their medical equipment passivating and cleaning needs, Marlin Steel's production team set to work actually manufacturing the baskets.
From the initial order to the delivery of these medical-grade custom wire ultrasonic cleaning and passivation baskets, the client only had to wait a couple of weeks. In most physical prototype-based testing methods, it could take months just to verify that a basket doesn't have glaring quality issues.
Marlin's Baltimore, MD-based factory location is conveniently located for access to numerous major distribution centers—whether by rail, truck, airplane, or boat. Because of this fact—combined with Marlin's incredibly fast virtual prototyping—most custom basket orders can be completed and in the client's hands with incredible speed.
Everyone at Marlin Steel is dedicated to delivering quality, engineered quick to all of our clients—a list that includes many world-class manufacturers in all kinds of industries.
Need a custom basket quick? Contact Marlin Steel today to get a custom basket quote!