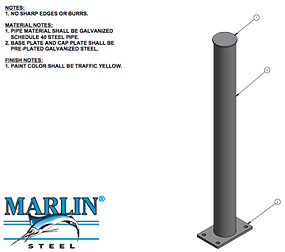 Here on the Marlin Steel blog, we often cover different specialty design projects for custom-crafted parts washing or materials handling baskets. However, there are many more custom metal forms that Marlin Steel can craft beyond wire and sheet metal baskets.
In a recent specialty order, Marlin Steel was tasked with creating large pipe bollard assemblies out of galvanized steel (steel that has been hot-dipped or electroplated with zinc). These bollards needed to be very sturdy, not to mention highly visible to motor vehicles so as to prevent accidents in the parking garage.
Building One Tough Bollard
For this particular project, the client needed a heavy-duty metal that could take an impact and stand up to the wear and tear of constant exposure to the open air. As a material for a bollard, galvanized steel is a good base material, as it resists corrosion from contact with concrete, lead, and aluminum.
However, to protect against other corrosives such as acid rain, the galvanized steel needed to have an extra layer of protection. To this end, the final product was coated in yellow traffic paint formulated to seal against rain and other contaminants, while simultaneously maximizing the visibility of the bollards.
Combining galvanized steel with the appropriate paints in this way has been demonstrated to vastly improve the useful life of items made with galvanized steel and prevent visible signs of corrosion such as peeling (which can strip the zinc layer from a galvanized steel product).
For the actual design of the bollard, it was decided that simplicity would be best. The bollard assembly itself consisted of only three pieces of sheet metal, a base plate, a cap plate, and the galvanized schedule 40 steel pipe itself. The base of the pipe interlocks securely with the base plate, and the cap plate covers the top of the steel pipe to prevent rain and other contaminants from getting inside the bollard.
The base plate has four extra bolt-holes in it to facilitate anchoring the bollard in place. As these devices are meant to protect pedestrians and buildings from out-of-control motor vehicles, the anchors need to be very secure to prevent the bollard from becoming pried loose by a hard impact.
Mass-Producing Tough Bollards
Before producing the bollards, Marlin Steel's engineers put them through
their virtual paces using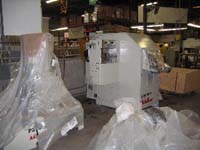 AutoDESK software to simulate the wear and tear these bollards would be put through during constant use in their destination environment. This testing simulated how long the bollards would last in order to make sure that the client would get the useful life that they needed out of their order, and that the bollards could withstand an impact with a car.
Once the final design of the bollard was finished virtual testing and had received approval from the client, Marlin Steel's engineers and robotics operation specialists programmed and set up automated manufacturing machines to handle the mass production of the bollards.
With the help of mechanized sheet metal cutting, bending, and welding equipment, Marlin Steel's mechanical engineers can rapidly produce hundreds of custom metal shapes. The robotic manufacturing equipment, once set, can run largely unattended, cutting, bending, and welding metal shapes to create finished products for hours on end without the need for rest.
Because of this, Marlin Steel was able to finish the manufacture of the
bollards for the client in days once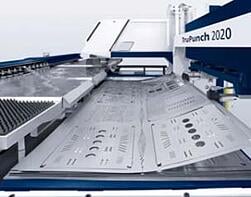 production started, minimizing the time to deliver the finished product. With speedy delivery, the client could finish construction on their project in a timely manner, with the necessary safety devices installed as needed to meet their obligations.
Want to learn more about custom metal forming projects such as this one, or have an idea for a custom metal part, but need help to fabricate it? Then contact Marlin Steel and speak with a degreed mechanical engineer today!