Food manufacturing is a fast-paced industry that relies on durable appliance parts that can withstand daily usage and a variety of temperatures. The right manufacturing parts are difficult to find, depending on what they are needed for.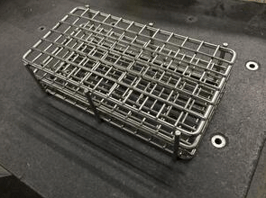 High-quality custom metal shelving and metal racks are valuable assets for food manufacturing.
Let's review some common appliances that you use on a daily basis that may need replacement parts, discuss why parts are difficult to find, and outline how we can help you get the parts you need with our custom offerings.
3 Types of Commercial Food Appliances That Might Require Replacement Parts
Here are three industrial food appliances that may require replacement parts as you use them over time.
Fridges
Commercial fridges are an essential part of ensuring the safety of food products. The FDA requires food to be kept at a proper temperature (around 40 degrees Fahrenheit) before cooking, using, and serving.
Fridges that are overloaded can cause problems with the condenser coils and shelving. Debris and spills in fridges that aren't properly cleaned can also cause harm to industrial fridges.
Ovens
There are several types of industrial ovens that often require a variety of accessories, such as cooling racks, cooking baskets, and sheet pans, to operate successfully. The accessories need to be made out of heat-resistant materials that can withstand the temperature outputs of commercial ovens.
Freezer (Reach-In or Walk-In)
Commercial freezers keep food well below freezing to make sure ingredients are preserved for a long time while maintaining safety and quality. These freezers are kept between -10 and 10 degrees Fahrenheit.
Food spills and stacking heavy items on freezer shelving can cause shelves and shelving parts to break. The low temperatures also aren't suitable for every type of shelving material, which cause wear and tear over time. Blocked freezer fans may also break down when something is stored in front of them.
Why Store-Bought Appliance Replacement Parts Can Be Tricky to Find
Take a look at two reasons why buying replacement parts from the store isn't always the best option for your commercial appliances.
Every Appliance Is Different.
Not all appliances are created equal. When it comes to industrial or commercial appliances, they are all different and require different sizes of metal shelves, replacement wire racks, and other parts.
Depending on what type of appliance you have and what you use it for, stores may not carry the parts that you need, forcing you to look elsewhere.
The Appliance Could Be Custom.
In the food industry, companies often have different requirements and needs for their kitchens and the types of food they cook and store. This is when they turn to ordering custom appliances.
Custom appliances are great for fulfilling a variety of needs, but they will likely have different part sizes and materials that aren't easy to find in a hardware store if they break and are in need of repair.
How Custom Wire Rack Shelving From Marlin Solves These Issues
Marlin Steel has the custom appliance accessory options that fit your needs. Here are some of the ways Marlin's custom wire shelving can resolve your issues:
Guaranteed to Get Correct Size
Marlin custom builds wire shelving and racks that can fit a variety of oven and refrigerator units. Our engineers can meet or exceed your needs by helping you find the correct dimensions so the rack or shelf size perfectly fits your appliances.
Accommodates for Varying Temperatures
With a high-quality selection of food-grade stainless steel and heat-resistant materials, the custom wire racks Marlin provides can be your manufacturing storage solution.
Even if you need your wire racks and shelves to resist cold storage warehouse temperatures or large walk-in freezers, Marlin's quality stainless steel can withstand the cold and freezing temperatures.
Superior Durability
You can be sure your wire racks and shelves won't break down during daily usage. Marlin's shelves are constructed to be sturdy and are welded to endure rough everyday handling.
Marlin Steel offers a large variety of customizable metal racks that can fit your food manufacturing needs. The professional engineers at Marlin design and manufacture metal racks and shelves according to your requirements, fitting your unique needs and budget.
Call Marlin Steel today to replace metal shelves and racks that can be tricky to find for refrigerators, walk-ins, freezers, and ovens. These customized steel wire racks and shelves are manufactured with precision.