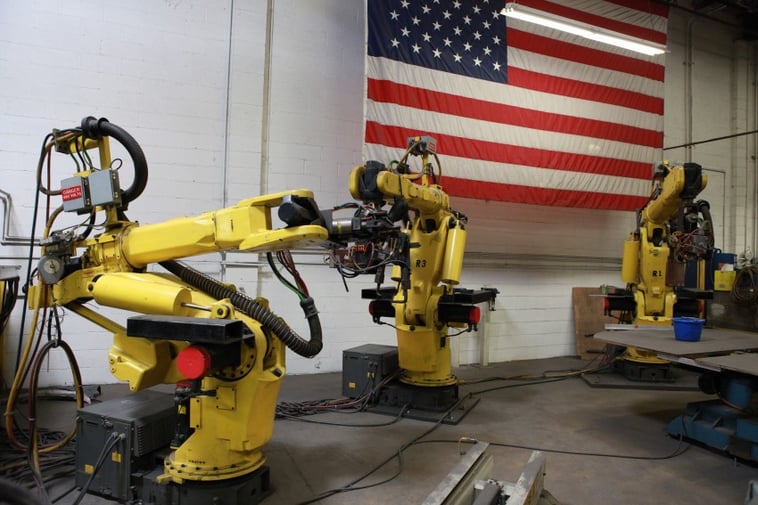 Manufacturing automation is the future of the U.S. manufacturing industry as a whole. Every day, more and more manufacturers are adopting automated equipment for their production floors.
Recently, Marlin Steel was featured in a Wall Street Journal (WSJ) article about manufacturing automation in the USA.
Sourcing Manufacturing Automation: The Short Supply Problem in the States
More and more U.S. manufacturers are looking for advanced automation, but it seems that there are few American companies poised to provide automation solutions on the scale or level of sophistication demanded by modern industries. As noted by the WSJ article, "America is losing the battle to supply the kind of cutting-edge production machinery that is powering the new automated factory floor."
Instead, most of these solutions are being made by foreign manufacturers based in Japan, Europe, and other markets. According to data from the WSJ article, "Commerce department data show the U.S. last year ran a trade deficit of $4.1 billion in advanced 'flexible manufacturing' goods with Japan, the European Union and Switzerland, which lead the industry. That is double the 2003 deficit."
This is an issue for several reasons, including:
Manufacturers who want to buy American don't have many cutting edge options that are up to the new standard.
As new innovations are made by foreign automation companies, American manufacturing technology will continue to lag behind.
Having to import automation (particularly larger, heavier machines) can be slow and costly compared to overland shipping from a U.S. supplier.
How Marlin Fits into the Story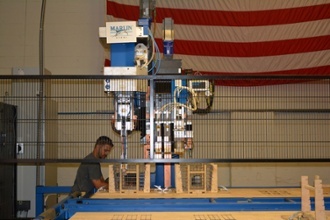 In the Wall Street Journal's article, Marlin Steel serves as an example of the importance of modernizing and upgrading factory automation. In the article, it was noted that Marlin nearly went bankrupt under the pressure of Chinese competition and "Since then, Marlin has spent $5.5 million on modern equipment. Its revenue, staff and wages have surged and it now exports to China and Mexico."
While a few of Marlin's manufacturing machines are from U.S.-based suppliers, the majority of our biggest, most impressive equipment come from foreign suppliers such as Yaskawa Electric Corp. and Trumpf GmbH (from Japan and Germany, respectively). Marlin's MFDC welder also hails from Germany.
These solutions are often designed for much larger companies that have full-blown technology departments, not small to midsize manufacturers with fewer resources.
To combat this deficit, Marlin CEO Drew Greenblatt has networked with others to try and encourage more automation innovation in the USA. The WSJ article notes one such effort, wherein "Mr. Greenblatt linked up with a group of Johns Hopkins University graduates to launch a startup, Ready Robotics, that makes smartphone-style interfaces for industrial robots, aiming to make automation easier for small firms."
Driving innovation initiatives such as this can help American companies stay ahead of foreign competitors—and maintain some of the advantages we already possess. As stated in the WSJ article, "by augmenting robots with sensors for vision, motion and touch—a field where the U.S. is strong—American innovators are enabling automation systems to be reactive and not just follow rote tasks."
Such innovations could be huge for speed and efficiency in American manufacturing. They would help make automated manufacturing equipment even more autonomous while enhancing product consistency and quality.
Read the full article for more information.