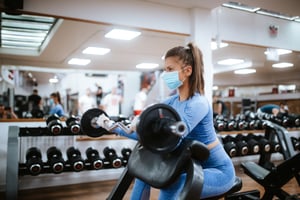 Life is beginning to return to - somewhat - normal for many people with the opening of restaurants, hair salons, and other businesses that were closed during the height of the pandemic due to social distancing guidelines. Gyms and fitness centers have also suffered under COVID-19; most were shut down all through the spring and many through the summer.
As COVID-19 transmission overwhelmed much of the country in Spring 2020, many states ordered gyms closed at the same time as bars and nightclubs due to the high risk of infection. In August, New York Gov. Andrew Cuomo called gym-going a "dangerous activity;" however, New York gyms - and fitness centers throughout the country - are reopening under strict sanitation guidance.
As your gym navigates reopening safely, Marlin Steel can help! High-quality hand sanitizer stands and no-touch sanitizer dispensers can assist with keeping your gym a safe space for people to workout and rebuild the fitness economy.
What Safety Challenges Gyms Face During COVID-19
Gyms and fitness centers were some of the first victims to safety measures ordered by states to curb COVID-19 transmission. Just as restaurants and bars, gyms were seen as potential hotbeds for infection and quickly shut down.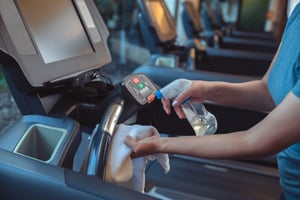 Although advocates were quick to argue that gyms should not be placed in the same category as bars - where people are socializing, eating, and drinking - gyms do come with their own set of risks. Since the virus is predominantly spread through infected air droplets, viral spread is heightened in a gym setting where people are breathing heavy, sharing equipment, and moving around in a contained spread. Gyms are also indoor environments, which carry an increased risk of transmission compared with a workout outside, such as running.
However, gyms can mitigate COVID-19 challenges by enforcing proper infectious disease control measures. States have their own restrictions concerning what gyms are allowed, or not allowed, to do, but most guidelines follow the same pattern: limiting gym capacity, recommending physical distancing, routing disinfection of equipment, and providing members with hygienic methods.
How Hand Sanitizer Can Keep Gyms Safe
Hand sanitizer, and the equipment to facilitate it throughout your facility, can increase the safety of your gym so you, your staff, and your members can get back to work without fear of COVID-19 transmission. Learn more how Marlin Steel's high-quality infectious disease solutions can help.
Enforce Sterility
The right hand sanitizer can kill the COVID-19 virus and is an easier method for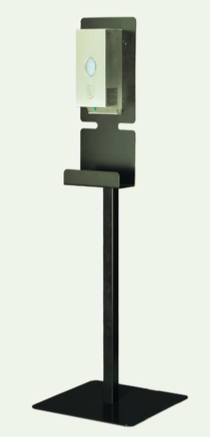 infectious disease control than hand-washing. While gym members may only be able to wash their hands in a restroom, a hand sanitizer stand or dispenser can deliver hand sanitizer in one quick, convenient motion.
The Marlin Steel hand sanitizer dispenser is no-touch for increased sterility, can hold up to 30 oz of sanitizer fluid of your choice, and features a refill indicator window so you can be alerted when the solution volume is getting low. While it can be filled with any sanitizer solution of your choice, Marlin's hand sanitizer kills harmful bacteria and germs, including the COVID-19 virus, and follows the WHO-Recommended formulation #1.
The sanitizer dispenser is designed to be used independently or attached to the Marlin Steel hand sanitizer stand. The stand can also be easily moved to convenient locations in your gym for increased accessibility and sterility.
Easy to Access
Both the no-touch hand sanitizer dispenser and the hand sanitizer stand facilitate easier access to hand sanitizer, so your members will likely use it more. The no-touch sanitizer dispensers can be positioned either on a stand or walls in areas of high traffic, such as near popular machines or locker rooms, so gym members won't be able to skip frequent hand washing.
Meanwhile, hand sanitizer stations are a convenient way to ensure the most sterile conditions in your gym since they can be set up in the most accessible locations for staff and members. By placing stands upon entrance and exit of your gym, members will be encouraged to practice good hygiene and use the hand sanitizer throughout their time there.
Changeable Headers for Greater Freedom
Although the Marlin hand sanitizer dispenser is designed to fit the sanitizer stand,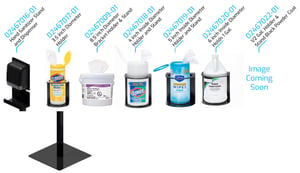 you can choose from a variety of headers. As a universal stand, Marlin Steel's sanitizer stand is built to hold a wide variety of different headers of no-touch dispensers so you can choose the one that fits your preferences.
Dispensers supported by the sanitizer stand include brand names like SC Johnson, DEB, and Purell, as well as Marlin Steel's own automatic no-touch dispenser. These universal sanitizer stands also can change headers so they can be used to hold Clorox wipes, Purell wipes, 1/2 gallon jugs, or gallon jugs of sanitizer.
Keep Gym Members & Employees Safe With Marlin Steel Hand Sanitizer Stands & Dispensers
As your gym opens up, you need to make sure your staff and members are safe but worry-free so they can either do their job or keep returning through the pandemic. By trusting Marlin Steel's infectious disease control solutions, your facility can be kept as sterile as possible and your members reassured.
Marlin Steel's engineering team has years of experience in crafting custom designs for infectious disease control and offers a variety of hand sanitizer solutions for your business. Contact an expert today for more information on how Marlin Steel's solutions can keep your gym safely running all through the rest of the COVID-19 crisis.