Whether you're looking for infectious disease control measures to prevent COVID-19 transmission or an easy way to help to combat the regular flu season, no-hand touch dispensers can help minimize exposure in your facility. As more and more businesses are now having employees start returning to work in the wake of the COVID-19 pandemic, implementing public safety strategies into your facility is more crucial than ever.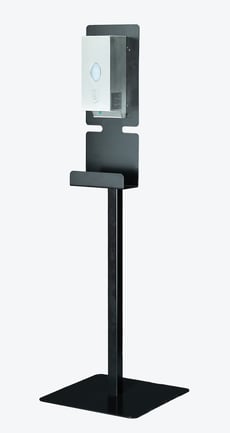 Employees want to feel comfortable going back to the office or warehouse knowing they have access to proper sanitation measures. Safety guidelines recommended by the CDC include practicing social distancing, frequently disinfecting workspaces, and consistent hand-washing by employees.
Hand sanitizer stands facilitate sanitation and are extremely efficient at killing viruses like COVID-19 when filled with effective sprays, wipes, and sanitizers. Marlin Steel's team of engineers have designed and manufactured sanitizer stands to provide the most accessible sanitation for all employees in your facility. As opposed to sanitation alternatives, a no-touch hand sanitizer provides an abundance of benefits to your facility that can extend past the sanitation measures of COVID-19.
Benefits of No-Touch Hand Sanitizer Dispensers
No-touch sanitizer stands are able to deliver sanitation measures far beyond what a traditional sanitizer dispenser can deliver.
Minimal Contact for Increased Sanitization
The "no-touch" component allows for minimal contact with other surfaces, reducing spread of germs. Unlike traditional dispensers or hand-washing, a no-touch sanitizing station removes the risk of unnecessary touch by using motion sensors instead of a button to deliver a powerful sanitizing solution in one quick, convenient action.
In a traditional hand-washing setting, employees must touch the faucet, hand dryer, or sanitizing wipe dispenser wall mount. All this extra contact potentially spreads germs throughout that space and increases the chances of COVID-19 transmission within your facility. A no-touch sanitizer dispenser and stand eliminates this risk by removing unnecessary touch.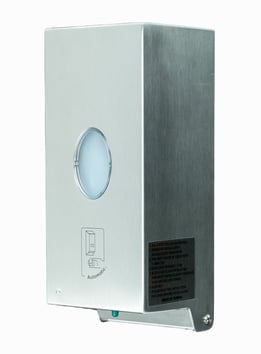 Easy Accessibility
Whether positioned on a hand sanitizer stand or walls, no-touch hand sanitizer dispensers are a convenient way for employees to maintain hygienic control practices. They can be placed in workspaces, offices, break rooms, or areas of high traffic so employees won't be tempted to skip frequent hand washing if it entails taking a trip to a restroom or hand sanitizer station on the other side of the facility.
Protect Your Workforce with Marlin's No-Touch Hand Sanitizer Dispensers!
Changeable Headers
Marlin Steel sanitizer stands can hold a variety of different headers of no-touch dispensers so you can choose the one that fits your needs and preferences. Popular dispensers supported by the sanitizer stand include SC Johnson, DEB, and Purell, as well as Marlin Steel's own automatic no-touch dispenser. Marlin's sanitizer stands also can change headers so they can be used to hold Clorox wipes, Purell wipes, 1/2 gallon jugs, or gallon jugs of sanitizer.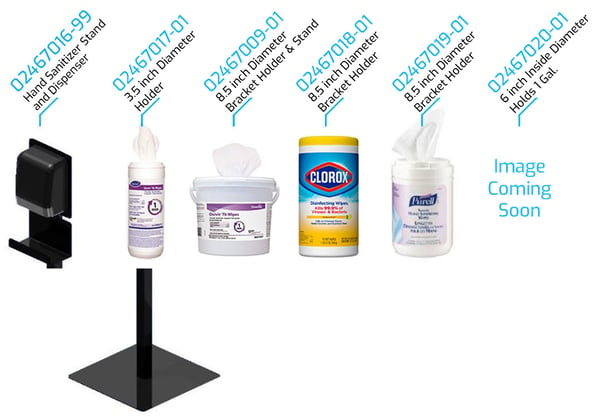 No-Touch Dispensers
Marlin Steel's hand sanitizer stands are outfitted by foot pedals so employees don't need to touch handles, potentially spreading germs and infecting others. Foot pulls are also sold individually to be screwed to the bottom of the door for minimal surface contact.
Durability
Both the Marlin Steel hand sanitizer stand and dispensers are designed and manufactured in the United States with American-made stainless steel. Stands are made of plain steel and versatile enough to meet the demanding applications of sanitizing whole facilities. Dispensers are also designed to be used countless times and made of durable stainless steel, which tends to resist scratching and handle drops far better than alternatives can.
Marlin Steel's engineering team has years of experience in crafting custom stainless steel racks, wire forms, and more for infectious disease control and pharmaceutical applications. Contact one of our experts today to see how they can design one with your specific requirements in mind.