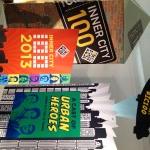 OK, it wasn't the Lombardi Trophy and confetti didn't rain from the roof, but Baltimore showed impressively at the Inner City 100 awards in Boston -- a showcase for some of the fastest-growing inner city small businesses in the country. This was a group of entrepreneurs, some of them based in distressed communities, who either never got the memo about the recession or never took it to heart: Their average five-year growth rate was 411 percent.
We at Marlin Steel were joined among the Inner City 100 this week with Ellicott Dredge Enterprises, the South Baltimore company that President Obama toured last week to spotlight the untapped potential of manufacturing, and Intelect Corp., a Brewers Hill company that develops transit communications and security systems. Also among the 100 was Navigator Management Partners with offices in Columbus, Ohio and Baltimore.
The Baltimore Development Corp. also received major recognition as the "Nominator of the Year" for its input and support of the Inner City 100. The "IC 100" is organized by the non-profit Initiative for a Competitive Inner City and sponsored by Chevron, Fortune, Staples and Goldman Sachs.
Harvard business professor Michael E. Porter launched the initiative nearly 20 years ago to draw attention to the importance of small business development to strengthen urban communities. Chicago, Philadelphia and Boston also had heavy representation on this year's list.