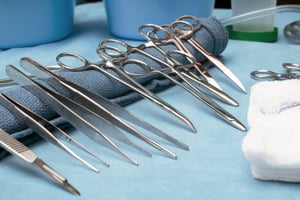 Medical and pharmaceutical product manufacturers and users both have to be very careful about how they store and wash their tools. Manufacturers need to ensure that the medical and pharmaceutical products they make are sterile and in top condition so that users can have the best tool for the job. Meanwhile, the hospitals (or other healthcare organizations) that use these tools have to ensure sterility and cleanliness to avoid the risk of infection.
Stainless steel wire forms, such as processing baskets or medical instrument trays, can play a major role in ensuring sterility and ease of use for medical equipment or parts. This is because a well-optimized medical wire form basket makes it easier to clean and organize equipment, helping improve cleaning processes.
However, not just any wire basket or tray will do. Choosing the right custom steel wire forms for medical and pharmaceutical applications is a must for getting the best return on investment (ROI) for them. To help you out, here are a few tips on how to choose custom steel wire forms for medical or pharmaceutical applications.
Tip #1: Get to Know the Different Types of Medical Wire Forms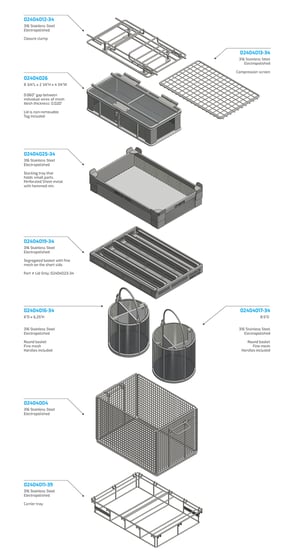 There is a large variety of steel wire forms that can be used for medical or pharmaceutical applications. Each of these wire forms has a different application that it might be suitable for. You can see some examples of different custom steel wire form types in the image to the right:
In the image, you can see a variety of custom inserts, baskets of different shapes/sizes, and even tray-like compression screens for holding medical instruments or pharmaceutical products flat.
These custom wire forms were each made to accommodate a different process or need, and so may use a variety of materials or design features. By being familiar with some of the broad categories of medical wire forms, you can make choosing the right one for your particular medical/pharmaceutical application easier.
Tip #2: Carefully Consider What Materials and/or Coatings to Use
Medical parts washing baskets and daily-use instrument trays alike frequently need to be made of corrosion-resistant materials.
For example, in parts washing, it's important to ensure that the baskets will not be corroded by the chemicals and temperatures used in the cleaning process. Meanwhile, instrument trays frequently need to hold medical instruments that may be coated in blood or other bodily fluids rich in salt or other corrosives.
While grade 304 stainless steel has excellent resistance to most corrosives, long-term exposure to chlorides (such as salt found in many bodily fluids) can cause pitting. Grade 316 stainless steel is more resistant to chlorides than grade 304 SS, which makes for a longer-lasting custom wire form. Taking the corrosion resistance properties of different grades of stainless steel into account is a must for choosing the right custom wire form for your needs.
Tip #3: Match Your Wire Form Features to Your Intended Use
One of the most important aspects of choosing a custom wire form is matching the special features and functions of that wire form to your application.
For example, if you're going to use the wire form as a medical instrument tray, then odds are that you don't want to add a lid which would make storing and retrieving equipment more difficult. After all, could you picture a surgeon asking for a scalpel, only for an assistant to say, "Give me a second to get this lid off" to them? It would be less than ideal.
On the other hand, a lid for a custom wire form being used in a parts cleaning process that used aqueous cleaning solutions or the like would be beneficial. During the washing process, you wouldn't have to worry about medical parts being knocked out of the basket by water pressure. This would minimize the risk of mishaps during medical parts sanitation processes, improving efficiency.
Other design features, such as the open space between wires in a wire mesh, the thickness of individual wires, and the presence or absence of handles would all be determined by the custom wire form's use.
Keeping the intended use of the wire basket or tray in mind is what Marlin's own engineers do when designing a custom wire form for any application. In fact, Marlin's engineering team has years of experience in helping medical and pharmaceutical manufacturers, research organizations, and healthcare facilities design the optimal custom wire forms to meet their needs.
Do you need a custom wire form for your medical or pharmaceutical application right away? Reach out to Marlin Steel to get started right away.