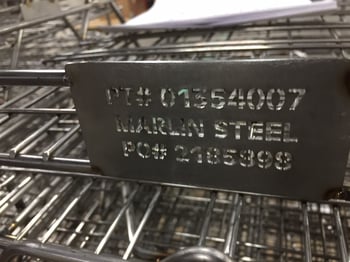 Here's a common scenario that many manufacturers have had to contend with at one time or another: It's another day on the manufacturing line, and all of a sudden, a basket full of parts comes out of your washing process and the parts are damaged. Or, a basket full of parts meant to go to an automotive manufacturing client instead gets shipped out to an aerospace client, and both clients are mad about the delay.
The cause? A mix-up involving two separate custom wire baskets that, while similar in appearance, were meant for different things. The first basket was not meant to hold the parts being washed, so they ended up moving too much and getting damaged. The second issue could be caused by confusion from a basket being in the wrong loading area and the person prepping the contents for shipment not having an easy way to distinguish the parts because they look similar. But, a difference of just 1mm could prove disastrous in delicate mechanisms.
Over time, it's all too easy for a manufacturer to wind up with a bunch of different custom baskets that are similar enough in design to make things confusing for their people on the factory floor.
The question is this: How can you keep track of all of your different custom wire baskets to prevent these mistakes?
The simple solution is to find some way to mark the different baskets that you use for each manufacturing application so that they're easy to distinguish.
Marking Baskets with Colored Coatings
Some manufacturers employ a color coding system for their baskets, using the different colors of the plastic coating to create a quick sorting system. While great for fast, at-a-glance identification of baskets, it isn't always reliable.
First, the coating can wear away over time—requiring it to be reapplied. This adds some expense to this basket sorting option.
Additionally, according to data from the National Eye Institute, "As many as 8 percent of men and 0.5 percent of women… have the common form of red-green color blindness." A smaller percentage of people may have other forms of color blindness as well. Chances of developing color blindness of one form or another increase with age.
So, there's a chance that some of your workers may not be able to distinguish the different colors.
However, this coating can be used to enhance the performance of the basket by boosting its chemical resistance properties or making it gentler on parts. If you already need to use a coating on your baskets, then making those coatings color-coded for specific uses may be a good way to reduce the chances of the wrong basket being used for an application.
Stamping Baskets
Some manufacturers opt to use a die to press a stamp onto a piece of sheet metal or steel wire. These stamps can be used to identify the basket by the part numbers or purchase order (PO) numbers.
While a decent option, when used on steel wire baskets, it can be somewhat difficult for someone on the assembly line to quickly read the stamp at a glance. This is largely because of the limited surface area available to apply the stamp. After all, if the wire is only 1/2" in diameter, that's not a lot of space to quickly read a raised surface that's the same color as the surrounding metal.
These stamps can be painted to increase their legibility. However, this paint may strip after repeated use depending on your processes.
Laser-Cut Sheet Metal Tags
When you want a large, easy-to-read identifier for your steel wire baskets that your assembly and shipping teams can use, laser-cut sheet metal tags are tough to beat. With these tags, you can create a large, legible surface to accommodate all of the information you need to convey.
Sheet metal tags can be made as large or as small as you need. Large tags with bigger letters can be easily read from a distance. They're also easy to locate on the basket, making verifying the basket simple and efficient.
The primary considerations to make when adding a laser-cut sheet metal tag to a basket are:
Added Costs. The creation and welding of a laser-cut sheet metal plate adds extra processes and expenses to the basket's creation. This, naturally, increases the cost of the basket.
Potential Interference with Some Operations. Many parts cleaning and finishing processes thrive on having as much open space as possible to prevent interference. For example, large, mostly solid metal plates can prevent ultrasonic waves from reaching the contents of the basket. In such cases, the placement of the tag must be carefully considered to minimize the risk of such interference.
One trick that can help to minimize costs and risk of interference in a sheet metal container is to use one of the container's sides for the sheet metal tag. The metal plate would already be part of the basket, so it wouldn't be adding any additional encumbrance to the design. However, this isn't always feasible, as there may be support bars that overlap the tag or other issues that make this option impractical.
Which of these options is the best for your manufacturing line? The answer depends on your situation. However, in most cases, using laser-cut tags is the most reliable option—so long as it doesn't interfere with your manufacturing process.
Need a high-quality custom wire basket that's easy to identify? Get a quote for a custom wire basket with a laser-cut tag today!