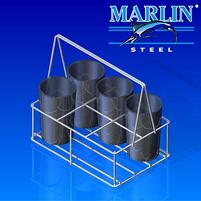 Nylon coating material handling wire baskets is a great solution for protecting delicate machined parts from scratching. A scratched precision component causes rework and additional inspections - unacceptable in a high technology factory that requires a workforce devoted to improving throughput and not constantly going back to fix root cause problems. A scratched part that escapes an inspection team and shipped to the client causes additional client dissatisfaction.
Nylon Powder is a coating material which can be applied to any substrate that can withstand the process temperature of about 400 F. Marlin Steel typically deploys the fluid bed method. At the process temperature it fuses into solid Nylon. Nylon is FDA approved and the maximum useful temperature is 350 degrees Fahrenheit. Nylon comes in a matte or gloss finish.
Getting it right the first time is critical with a highly engineered material handling basket.
Related Articles:
Best Ways to Reduce Scratches to Your Products