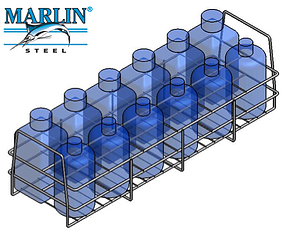 Helping others overcome challenges in production processes through creative and well-reasoned designs is a major part of what mechanical engineers do. At Marlin Steel, these dedicated individuals are routinely tasked with creating custom metal forms to fill a variety of tasks, from the ultrasonic cleaning of highly delicate parts to vapor degreasing processes.
When compared to the task of creating a basket to hold dozens of miniscule and delicate parts through a cleaning cycle that involves rotating the basket and exposing it to extreme temperatures, creating a basket to hold bottles sounds relatively simple. However, making a custom wire form to hold bottles poses many challenges.
What are these challenges? Well, just like with any other custom parts basket design job, the challenges change depending on the composition of the bottles (glass or metal, for example), the processes that the basket is meant to hold the bottles through, and whether the bottles will be empty or full during these processes. To highlight some of these challenges, here are a few recent examples of bottle baskets that Marlin Steel custom-manufactured for clients.
Bottle Basket #00493005: Small Sterilization Basket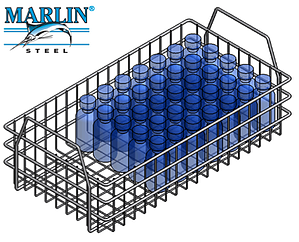 Designed by Vincent Moore for a medical industry client, this small basket was designed to hold a dozen tiny bottles through a medical-grade sterilization process meant to prevent contaminants from growing. To keep this bottle basket viable for repeated sterilizations, it had to be highly resistant to heat and chemical corrosives.
To ensure survivability of the wire form, this basket was constructed from grade 304 stainless steel, which was then electro-polished to ensure ease of sterilization and eliminate micro-sized grooves that could otherwise serve as a safe haven for bacteria and other contaminants.
To hold the bottles in place while providing as little obstruction as possible, the majority of the basket was constructed using thin wire mesh. The frame, handles, and supports are all composed of wire mesh. However, the top portion of this basket actually uses perforated sheet metal to get those perfectly round holes to be the exact right size to secure the bottles in place.
The end result? A small, lightweight basket that conserves metal with a minimalist design that gets the job done as efficiently as possible, but will last for a long time because of the choice to use electro-polished 304 SS for the basket.
Bottle Basket #02069001: Stacking Bottle Handling Basket
With this particular basket, the challenge was to design a basket that could:
Hold 18 fully loaded bottles securely.
Be easy to carry by hand.
Not take up too much space on the factory floor.
Unlike the previous basket, which was designed expressly for use with empty bottles during a sterilization process, this basket would be used for handling filled bottles. Naturally, the weight difference between empty bottles and filled ones is significant, and the extra stress that a loaded container puts on the wire frame had to be taken into account.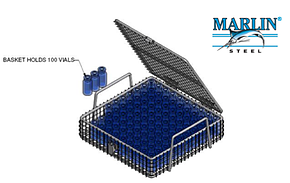 In designing the frame of the basket, the engineer in charge of the project, Mr. Chan, decided to use .25" thick wires. This thickness of wire was determined to be enough to hold the bottles without losing shape when fully loaded under normal operating conditions.
With the load being divided into three rows of six bottles each, support wires were placed under the frame to hold up the weight of each bottle, one wire for each row. To hold the bottles in place and keep them separated, .121" thick pieces of crosswire were laid across the top and middle layers of the frame. Because these weren't load-bearing wires, they could be made from thinner wire to save on total basket weight and cost.
To ensure ease of manual handling, two large handles were added to the ends of the basket so that gloved hands could easily get a grip on them. To make the baskets safe to handle, all burrs and sharps were removed, and then the entire basket was electro-polished to smooth out the surface.
The rectangular design of the basket allows it to stack easily when not in use. This saves floor space for the client when baskets aren't actively being used for parts handling.
Taking the Bottles into Consideration
The two baskets mentioned above represent just a few of the design considerations that any given bottle basket design might need. Every time such a basket order is made, Marlin's engineers consider not only the dimensions of the machinery of the client, the processes the basket will be used for, and the dimensions of the bottles to be held, but the materials such bottles will be made of.
For example, if a finishing process involves glass bottles, then it may be necessary to use a protective coating on the basket such as a soft rubberized coating. Not to protect the basket, but to protect the bottles from impacts and prevent scratching or cracks.
Learn more about how Marlin Steel's degreed mechanical engineers work to create the perfect sheet metal and wire mesh baskets to meet your needs today!