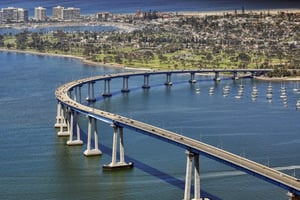 The Cargo Logistics America Expo + Conference is just a week away! This year, Marlin Steel was invited to give a presentation at the CLA Expo and Conference. The topic of this keynote speech? The importance of U.S. export/manufacturing policy and trade agreements and the perspective of American manufacturers. Other topics of discussion will include global supply chain challenges and opportunities for U.S. manufacturers.
The Supply Chain and Manufacturing
Although much of what the CLA focuses on is directed towards the owners of cargo capacity/logistics, manufacturing companies can also benefit from attending the expo. The major reason for this is that cargo logistics is an enormous part of any manufacturer's ability to complete orders.
Not only do manufacturers rely on cargo transportation services to ship their completed goods from the factory to the customer/end user, they need to rely on these services to get the raw materials and equipment needed to make these products in the first place.
Without a strong supply chain, manufacturing companies cannot operate in a timely and profitable manner. So, having a chance to attend an expo like this one is a great opportunity for manufacturing companies in the U.S.
Why is This a Great Opportunity for U.S. Manufacturers?
At events such as the CLA logistics expo and conference, manufacturers have the chance to directly interface with logistics suppliers. These networking opportunities can be invaluable to the growth and success of a business.
Many of these supply chain specialists will be showing off their latest innovations for optimizing supply chains, innovations that you might miss otherwise.
Additionally, this particular event will feature a host of special presentations and keynotes by industry-leading personalities in the fields of manufacturing, transportation, and logistics. Many of these speakers have lead their businesses to success under very difficult conditions, which makes their insights well worth the trip to hear.
There will be dozens of speakers at the event, including:
Stephen Edwards. President & CEO of Global Container Terminals, Inc.

Robert Voltmann. President & CEO of Transportation Intermediaries Association

Richard Knee. Contributing Editor of Cargo Business News

Matt Yearling. CEO of Pinc Solutions

Drew Greenblatt. President & Owner of Marlin Steel Wire Products
This expo is a great chance to pick the brains of respected and successful manufacturing and logistics luminaries from all across America.
Where/When is the Conference?
The conference is being held at the San Diego Convention Center at 111 West Harbor Drive, San Diego, CA 92101. The event is expected to draw over 300 C-suite cargo owners, manufacturers, and senior professionals in transportation, logistics, purchasing procurement, distribution, and other stakeholders in the U.S./global supply chain.
The conference program itself begins on Wednesday, December 2, but there will be a welcome reception on Tuesday, December 1 at 5:00 p.m. for those who arrive early and want to pick up their delegate badges.
Marlin Steel's presentation is being held on the first day of the expo (December 2), in room 14B.
The mission of the CLA Expo + Conference is to assemble the largest and most diverse gathering of stakeholders in U.S. supply chains under one roof. With your help, that goal can be met.
See You There!
For more information about the Cargo Logistics America Expo + Conference, please visit the CLA FAQs page.