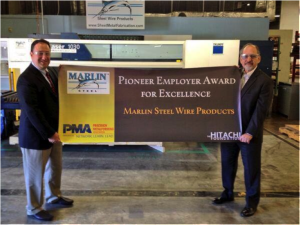 Marlin Steel Wire is now featured in a video produced by The Hitachi Foundation. This video highlights our core strengths – "Quality Engineering Quick.®" In five minutes, it shows how Marlin Steel was able to turn our wire products business around and meet our customer's needs, strengthen our bottom line, boost earnings and offer our associates advancement opportunities. It also showcases our SkillsMatrix that emphasizes cross-training and our focus on production bonuses and paid training.
In 2013, The Hitachi Foundation designated Marlin Steel a Pioneer Employer – awarded by the Precision Metalforming Association – in recognition of our growth in revenues as well as our focus on creating opportunities for our associates and our investment in their professional success.
The video shows how Marlin aligns the interests and objectives of our employees, management, and customers to achieve high-quality results. By linking our client's expectations with production team goals, we are able to share Marlin's financial success with our associates.
The video features interviews with a few of our exceptional Marlin Steel team members - Nathan Myers, Liston Clise, Kenny Browning, Hector Carmona, and Andy Croniser.
Please watch the video and share it with your colleagues.
The Hitachi Foundation also blogged about us in - From Bagels to Boeing. It tells our comeback story and showcases how our team's advanced manufacturing skills and agility have kept us growing eight years in a row.