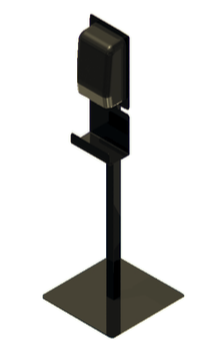 As the COVID-19 virus recedes and businesses reopen, there are still safety guidelines to follow in order to minimize risk of exposure to the virus and reduce its chances of recurring again. The CDC recommends implementing public safety strategies into your workspace to ensure the health of your employees. Practices encouraged to maintain prevention hygiene include social distancing and regularly cleaning and disinfecting workspaces.
Cleaning and sanitizing measures are heavily encouraged since they are extremely effective at killing the virus. The EPA's list of products that are effective at killing viruses like COVID-19 include sprays, wipes, and sanitizers. With normal routine cleaning and frequent disinfection with sanitizers, you can encourage infectious disease control and keep your workspace open post-pandemic. Marlin Steel now offers a sanitizer dispenser and stand for these purposes, enabling accessible sanitation for all employees on the factory floor.
The Importance of Having a Sanitary Working Environment as Manufacturers Begin to Open Post-Pandemic
Maintaining a sterile working environment will be key for reducing the chances of COVID-19 exposure and recurrence in the American workforce as businesses begin to open up again. Since COVID-19 virus can be killed with the right sanitizing products, regularly sanitizing your workplaces will effectively lower the risk of transmission.
Coronaviruses like COVID-19 can live on surfaces from several hours to days. If an infected employee touches a door handle, a coworker can become infected if they do the same within that period of time. Surfaces can be made safe by using sanitizers with up to 60% alcohol content, bleach solutions, or soap and water.
If your employees are practicing other safety measures, such as social distancing and wearing face masks, but there is no preventative hygiene plan, then these practices will likely not protect your staff. It's critical as manufacturers to develop a maintenance plan to reduce risk of infection as your business reopens which includes sanitizer and cleaning methods.
3 Benefits of Having a Sanitizer Dispenser in Your Working Environment
The best way to minimize exposure to COVID-19 in your workplace is placing sanitizing stations throughout your facility. This fast and easy method will ensure your employees stay safe and can continue their jobs during the reopening process of the economy.
Ensures Safety in the Workplace
With hand sanitizer dispensers, your manufacturing facility will be equipped to maintain hygiene practices with its easy access for solutions able to kill viruses. Sanitizers that are over 60% alcohol content are considered by the EPA as the most effective with killing coronaviruses. Employees want to know they are protected from disease when they come to work. Placing hand sanitizer stations will not only reduce the risk of COVID-19 and other diseases spreading between coworkers, but will reassure your staff that you care about their wellbeing and are implementing hygienic strategies for their protection.
Accessible for Employees
Hand sanitizer stations are a convenient way to ensure sterile conditions and workplace safety since they can be set up in accessible locations for employees. Your staff can spend less time thinking about hygiene and traveling to the restroom to wash their hands when a hand sanitizer stand is available at their workplaces or areas of high traffic. Sanitizer dispensers also encourage employees to maintain hygienic practices. Some of your staff may be inclined to skip frequent hand washing if it entails taking a trip to a restroom or hand sanitizer station on the other side of the facility. A hand sanitizer that is conveniently located near employee workplaces will encourage staff to practice good hygiene.
No Touch For Increased Cleanliness
Most dispensers, like the Marlin Steel sanitizer dispenser, are touchless devices that use motion sensors instead of a button. The "no touch" component ensures minimal contact with other surfaces and people to be as sanitary as possible. In a traditional hand-washing setting, you must touch the faucet, hand dryer, or sanitizing wipe dispenser wall mount. This potentially spreads germs throughout that space. A no-touch sanitizing station removes this risk by reducing unnecessary touch and delivering a powerful sanctuary solution in one convenient action.
Protect Your Employees With Marlin's Sanitizer Dispenser!
Are you convinced that a sanitizer dispenser and stand is the ideal solution for your manufacturing company's post-pandemic hygienic strategies? Marlin Steel's own sanitizer dispenser and stand may be ideal for your sanitation needs.
Marlin's hand sanitizer dispenser is no-touch and can hold up to 30 oz of sanitizer fluid. It also features a refill indicator window so you can be alerted when the solution volume is getting low. The dispenser fits well with the Marlin Steel hand sanitizer stand, though the stand also is engineered to several different dispenser models.
Marlin Steel also offers hand sanitizer for your dispensers and sanitation needs. Marlin hand sanitizer kills harmful bacteria and germs, including the COVID-19 virus, and follows the WHO-Recommended formulation #1.
Additionally, Marlin's engineering team has years of experience in crafting custom stainless steel racks and wire forms to fit a wide variety of applications, including those for infectious disease control. If there isn't an available medical tray or wire form that meets your needs, contact them today and they can design one with your specific requirements in mind.