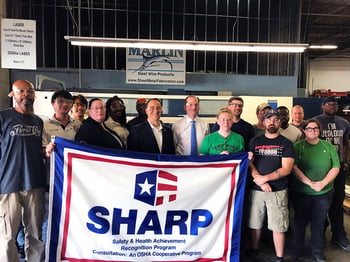 October 6, 2017, saw many different events take place all across the country as a part of Manufacturing Day's awareness-raising efforts and celebration of American manufacturing. From meet and greets at the White House, to local presentations about manufacturing by individual manufacturers and educators, there were countless events held all across the USA.
With so many events taking place all over, it was Marlin Steel's profound honor to receive a visit from Secretary of Labor Alexander Acosta on Manufacturing Day 2017!
Highlights from the Tour of Marlin's Baltimore Facility
Secretary Acosta joined the National Association of Manufacturers (NAM) on the Marlin Steel factory floor for a tour of the facilities. The tour featured a chance for Acosta and the NAM members present to meet with Marlin's employees and talk about the impact of manufacturing on the American economy.
As the Secretary of Labor, Acosta oversees OSHA, the organization that safe working environments for American workers. In fact, one of the reasons that Secretary Acosta chose to visit Marlin for Manufacturing Day may have been the fact that Marlin Steel is a recipient of multiple OSHA SHARP safety designations with a long track record of safety.
While at Marlin's facilities, Secretary Acosta talked about the importance of safety for manufacturers and even celebrated Marlin's accomplishments in maintaining an ultra-safe manufacturing environment—going for years at a time without any lost-time safety incidents.
The Importance of Manufacturing to the American Economy
Before his visit on Manufacturing Day, Secretary Acosta was quoted by the NAM as saying:
"Today we celebrate more than 12 million Americans who work in manufacturing and millions more who work in the jobs that support the industry… The impact of manufacturing on the American economy and the value of these family-sustaining jobs can't be underestimated. Expanding economic opportunity through workplace education, common-sense regulations and tax reform will strengthen manufacturing for decades to come."
This address highlights a couple of the reasons why manufacturing is so critical to the American economy:
It employs millions of Americans—either directly or indirectly; and
It creates family-sustaining jobs that pay a real living wage.
In short, manufacturing supports millions of American families, and that alone is reason enough to push for reforms that help manufacturers of all sizes grow their business and add more employees.
Marlin Steel is proud to be a part of Manufacturing Day and other events like it—and prouder still to be a part of this amazing industry.