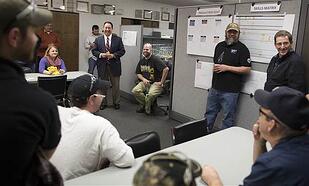 Earlier today, Marlin Steel's CEO delivered a keynote speech for the 2015 Manufacturing Leadership Session at the GE Aviation Brian Rowe Learning Center in Cincinnati, Ohio. At this gathering of local and national manufacturing leaders, one key topic was how to motivate and empower employees to be more productive.
If you missed the keynote, but still want to know what the "secret sauce" for boosting employee productivity is, here's a hint: it all starts with great leadership.
What separates a leader who inspires employees and build business success from everyone else?
Here are a few things that make for great manufacturing leadership:
1: Treating Employees Like People
In his presentation for the Cincinnati Manufacturing Leadership Session, Marlin Steel's CEO highlighted one important fact of life for manufacturers that many often forget; people are fixed costs, not variable ones.
When you hire a full-time worker, you're entering into a relationship that can last up to 30 years. This is makes each hire a long-term investment, so its in your best interest to keep them dedicated and engaged so they can work their best to produce results for your business.
This is part of the reason why Marlin Steel has a couple of books on its "Management Must Read" list, such as Shigeo Shingo's A Study of the Toyota Production System and Eli Goldratt's The Goal. These two books instill in readers an understanding of the importance of:
Improving work methods

Increasing worker motivation

Creating harmony within the organization

Making change make sense to workers

Excess capacity should be used to grow the business, not to lay people off

Loyalty is a two-way street
The knowledge and advice contained in these books have helped Marlin's management become better leaders that support employees to increase productivity.
Using people like they're disposable assets kills motivation and productivity, which is why Marlin Steel avoids such behavior.
2: Giving Employees the Tools They Need to Succeed
It's one thing to tell an employee to perform a task, it's another thing entirely to make sure that each employee has the knowledge and tools needed to do the task well.
Great leaders pay more than lip service to the task of providing support. These leaders provide their employees with access to training resources and seek to keep their knowledge as up-to-date as possible.
This provides several benefits, including:
Making employees more knowledgeable

Improving employee confidence when dealing with clients and vendors

Making employees more effective at manufacturing tasks so there are fewer defects

Your investments in new equipment will provide better ROI
Speaking of new equipment, providing your employees with the right tools for various tasks is a critical part of building business success.
For example, Marlin uses a diverse array of manufacturing automation tools to help employees create custom wire forms with greater precision to meet tight production tolerances. Each of these machines require some amount of training to use to their fullest, which is why Marlin uses 5% or more of its labor budget for training.
3: Keeping Employees Motivated
One of the toughest tasks a leader faces is keeping employees motivated to work like they're excited to be there every day. Some of the ways that Marlin Steel keeps employees motivated are to:
Pay Well. Marlin Steel uses a cash bonus system to reward people for meeting aggressive production goals. These goals aren't easy, but they are achievable. These bonuses apply to every pay period, so performance is always directly tied to reward.

Listen. More than just listening to complaints, leaders listen to their employees for ideas. Some of the best ideas for improving productivity and safety come straight from the trenches.

Hire the Right People and Get Rid of Disruptions. Great leaders know that hiring is the most important part of their job. Being picky and using personality tests to find people with the right traits to fit in with their corporate culture is critical to avoiding taking on people who keep your key talents from functioning at 100%. Getting rid of disruptive elements fast when they do slip through is also important to maintaining productivity.

Emphasize Safety. Great leaders care about the well-being of their employees, not just because of productivity, but because they've established a relationship with their workers. Creating a safety committee that's empowered to take action and shooting for SHARP status demonstrates that you care about employee wellbeing as a leader. Employees like working for safe companies.

Establish Clear Expectations and Processes. Employees who don't know what they need to do to get the job done can quickly become frustrated. Creating a consistent methodology for your work processes helps employees create repeatable quality, and eventually, innovate for greater results. ISO 9001 certifications are a desirable badge of consistency.

Be Transparent. Great leaders know that honesty is the best policy. Using candor when addressing employees helps to improve the overall culture. Employees pick up on your behavior, and will return your candor (or lack of it) in kind. In essence, a leader is the role model for every employee's behavior.
By using these elements of great leadership, Marlin Steel has grown considerably despite the difficulties of an economic recession and intense foreign competition, delivering on the promise of "Quality Engineered Quick" for clients in over 30 different countries.
Thanks to @JaniceUrbanik and @KYHarp for the great photos from this successful event!