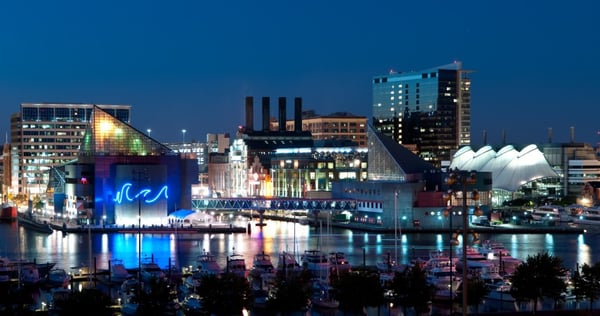 Marlin Steel recently celebrated more than 50 years of engineering—and ABC News' WMAR Baltimore crew was at Marlin's Baltimore factory to speak with CEO Drew Greenblatt about the company's history.

From Bagels to Boeing
Originally founded in 1968 in Brooklyn, NY, Marlin Steel was a small manufacturer of custom, hand-made wire forms. Over time, the popularity of bagels saw a surge in the industry, and Marlin rose with the commensurate rise in demand for cheap bagel baskets.
By 1998, the year wherein current Marlin CEO Drew Greenblatt bought the company and moved it to Baltimore, MD, Marlin had become known as the "King of the Bagel Baskets." Just a few years later, though, the Atkins diet caused the bagel market to come crashing down. The demand for bagel baskets, once as insatiable as the public's appetite for the carb-rich snack, evaporated overnight. To make matters worse, Chinese companies subsidized by their government started selling cheap baskets on the market for less than the cost of the steel needed to make them.
One problem was that bagel shops didn't really need much in the way of quality. As Drew told Cassie Carlisle and the ABC News crew in their Made in Maryland segment, "They don't own a tape measure, a bagel retail shop. So, what they consider good is if the bagel doesn't fall out—that's a success." So, it didn't matter if the competitor product was cheaply-made—and the government-backed Chinese competitors could afford to undercut any offer Marlin could make.
Marlin needed a new focus—an industry where cost was not the deciding factor.
Then came the call from a Boeing engineer that changed everything.
The engineer needed precision-engineered custom basket for ultra-delicate aerospace parts. A commodity basket with parts tolerances simply would not do. As Drew pointed out in his interview, "When you're selling to Boeing, you have to be plus or minus .28 inches." Marlin Steel had a new customer in a new industry—one that spurred a new focus on Quality, Engineered Quick®.
The differences between handcrafting wire baskets meant for bagel shops and the ultra-precise requirements of companies like Boeing did cause some growing pains for Marlin. There were failed prototypes and extra costs from integrating the new equipment and procedures necessary to meet client demands. But, Marlin recovered, and in a big way.
Since he first purchased the company in 1998, Drew has helped Marlin Steel grow eightfold.
What Manufacturing Means to People
However, the thing that makes Drew the proudest isn't the way that the company has grown; it's the way that this growth has helped all of the people working at Marlin grow.
In the interview, Drew talked about Hector Carmona, one of Marlin's most seasoned employees:
"When I first bought the company it was $8/hour, he walked to work, no health insurance plan—you know his health insurance plan was to go to the emergency room… Now, he owns a home. Him and his spouse own a car, his family is on the same health insurance plan my family is on and he's going to make about 60 large this year."
By growing Marlin Steel, by changing the focus from "cheap" to "high-quality delivered quickly" using a combination of factory automation and highly-skilled engineers, Drew Greenblatt was able to help the people at his factory rise up from near-poverty to the middle class. This is an opportunity that many modern manufacturing companies provide for their employees—especially those who export their products.
Manufacturing creates new opportunities for dedicated, hard-working Americans to better their lives and support their families. This is one of the reasons why Marlin Steel's employees are so passionate about growing the manufacturing industry. By growing the manufacturing sector, we can grow the American middle class and the economy.
You can check out the full story on the ABC WMAR Baltimore News website. For more information about Marlin Steel and manufacturing, check out our blog!