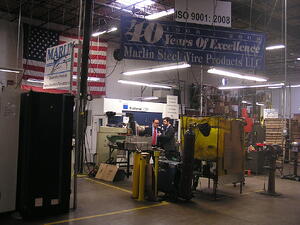 With 2015 behind us and 2016 off to a great start, we wanted to share some highlights of 2015 here at Marlin Steel. 2015 was a busy year for us, with many new milestones for the company.
What were these milestones? Some big events from the past year included:
A Major Factory Expansion
In April of 2015, Marlin Steel started breaking down walls in its own factory to start a new 28,000 sq. ft. expansion to the factory floor. This expansion was designed to add room for the millions of dollars of new manufacturing equipment that Marlin was adding in 2015.
To accompany the floor space expansion, the factory's power supply was also overhauled, increasing the power available to Marlin's Baltimore-based factory sevenfold. This power supply rework was necessary to accommodate the power demands of the automated manufacturing equipment Marlin Steel plans on adding in the future.
Speaking of automated manufacturing equipment…
All-New Factory Automation
Marlin Steel is constantly striving to expand and improve its production capabilities. One of Marlin's methods for increasing production capacity is to add new manufacturing automation equipment to the production line.
This year, Marlin added several new pieces of equipment, including:
An AW3D HD2x 3D Printer from Air Wolf: this remarkable device assembles custom parts layer by layer without the need for custom tooling on each new job. With this device, Marlin expanded its rapid prototyping capabilities for customers.
The Rouselle 8SS40 Double Crank Straight Side Press: this press applies up to 80 tons of force at the bottom of its stroke, creating enough pressure to easily flatten, swage, coin, or pierce solid metal. With this device, Marlin's custom wire forming capabilities are increased.
A 37" Prima W 309 RBB (Wet) Belt Sander from Bütfering: Bütfering's (a.k.a. Steelmaster) wide wet belt sander is an ideal device for parts finishing to remove burrs and sharps from custom metal forms. From steel wire parts washing baskets to bulk sheet metal containers, this belt sander excels at eliminating sharp edges that could cause damage to held parts.
These pieces of automated equipment each help to expand Marlin's manufacturing capabilities. However, none of them would provide much benefit without Marlin's highly trained and knowledgeable staff being there to make the most of each machine.
New Employees
Marlin Steel is constantly on the lookout for bright, dedicated individuals who aren't afraid of working hard for a living wage that is matched to their efforts. 2015 was no different.
Throughout the year, Marlin added new personnel to work the new machines and help meet growing production demands as clients with tight production tolerance demands all over the world placed orders for custom steel wire and sheet metal forms.
For example, when Marlin began its factory floor expansion, there were two new jobs created then and there. Not just temporary construction jobs, but long-term positions within the company for after the completion of the expansion.
Marlin's employees, new and old alike, are the backbone of the company's success, which is one of the reasons why Marlin works so hard to protect them. In fact, Marlin is especially proud of its safety milestones and awards in 2015, such as:
The OSHA SHARP Designation
2015 was a big year for safety at the Marlin Steel factory. Not only did the company reach 2,500 consecutive days without a major safety incident, Marlin underwent an OSHA inspection and became the fifth company in the entire state of Maryland to earn OSHA's coveted SHARP safety designation.
This designation recognizes Marlin as a workplace that fosters the health and safety of its employees in ways that go above and beyond the average. With empowered, employee-led safety commissions, robots that handle the most dangerous physical tasks, and a focus on safety training and awareness, Marlin works hard to keep employees safe and healthy on the job.
The Lockheed Martin Performance Excellence Award
In September of 2015, Marlin Steel was given a rare and much-coveted Lockheed Martin Performance Excellence Award for its part in a joint project with Raloid Corporation to manufacture parts for Lockheed Martin Missiles and Fire Control's (LM MFC's) Hellfire Missile Program.
The award was presented to Raloid Corporation President Rear Admiral (ret.) Nicholas T. Kalathas, who shared the award with Marlin Steel for Marlin's "willingness to commit its personnel to program success and work under an extremely compressed schedule," which allowed Raloid to supply LM MFC with parts and avoid costly production delays.
These award coins are a rare token of recognition from one of the most famous manufacturing companies in the world, one which now joins Marlin's many other accolades and awards from the last decade.
2015 was an eventful year for Marlin Steel, and everyone here hopes to make 2016 even bigger, with all-new milestones and awards. Look forward to seeing more from Marlin in the years to come!