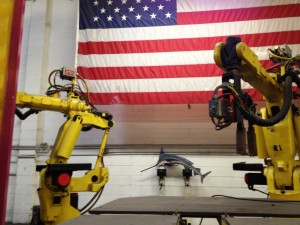 Marlin Steel automation
Association for Advancing Automation created a new website that features Marlin Steel's commitment to growing jobs and improving safety through a heavy investment in robotics and automation.
They created a tremendous video that captures the critical path that all manufacturing companies must pursue to grow.
By investing over $3.5 million dollars in the last couple of years in the latest technology for sheet metal fabrication and wire forming fabrication, Marlin Steel has made its employees more productive and this has allowed the company to win more jobs, hire more people, pay better wages, offer more benefits and most importantly provide a safer work environment. Robotics and automation has contributed to Marlin Steel's 1,850+ days without a safety incident.