2020 is destined to go down as the year of COVID-19. Now, 2021 is shaping up to be the year of the vaccine. The approval of multiple vaccines and increased production of them has a lot of us returning to normal activities, with many more planning to do so by the time the year comes to a close.
Marlin Steel is proud to help support efforts to bring the vaccine to the public with out products (more on this in a bit). But even before the pandemic brought the world to its knees, we were producing high-quality, stainless steel products designed for the medical and pharmaceutical industries.
Between meeting large production quotas, strict production tolerances, and upholding stringent sanitation standards, medical and pharmaceutical manufacturing companies need the durable equipment Marlin Steel provides. Our team of engineers designs and produces custom stainless steel wire baskets and other products for whatever regulation your company must meet and any challenges your company may face!
QUICK LINKS
Why Medical Companies Should Use Stainless Steel Baskets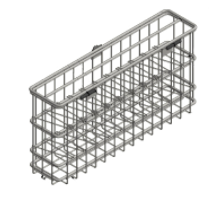 Marlin Steel's custom wire baskets are built with stainless steel, which is more chemical resistant and has greater tensile strength than alternatives such as plastic. Stainless steel alloys come in hundreds of different grades, each one resistant to different corrosive factors so you can choose the ideal grade for your medical and pharmaceutical manufacturing processes and applications.
Marlin Steel's wire baskets are also ideal for sanitation measures used in medical and pharmaceutical manufacturing. Most sterilization processes involve combinations of extreme temperatures and strong chemicals to eliminate dangerous microbes setting up camp on industry tools and equipment.
Unfortunately, the majority of plastic polymers will rapidly degrade past temperatures of 300°F (~148.9°C), never reaching the operational limit of steel alloys. You can be confident that the American-made, stainless steel wire baskets from Marlin Steel can withstand harsh sanitation processes without losing shape or functionality. Additionally, our wire baskets can be customized with an ultra-fine woven mesh basket to hold delicate small parts or a stackable frame for storage.
Why Medical Companies Should Use Stainless Steel Medical Supply Carts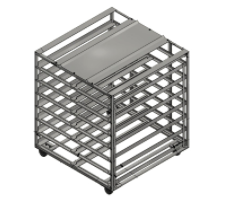 Medical rolling carts are often used in medical and pharmaceutical product manufacturing to minimize contamination risks. For example, a covered stainless steel rolling cart can prevent particulates in the air from coming into contact with freshly-made or sterilized medical components, keeping them sterile during transport. The open space inside of a rolling cart also allows pharmaceutical products to quickly dry between processes.
Stainless steel rolling carts can also be used as mobile cabinets for instruments and equipment during clinical development trials. Development personnel might need access to a wide variety of tools and equipment during such trials—which the rolling cart makes much easier to carry between workstations.
On the other hand, some manufacturers may use medical carts on wheels as cabinets to hold baskets that aren't designed to stack or would be too heavy to safely stack when loaded. Those baskets can be safely stored in a smaller area than they would be if left spread out over the factory floor. This helps to free up valuable floor space for more manufacturing equipment.
Why Medical Companies Should Use Stainless Steel Trays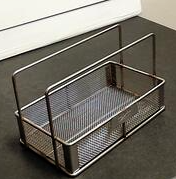 Stainless steel trays have a number of medical and pharmaceutical manufacturing applications. Custom trays can be used for holding tools or for safely transporting components from one process to another.
Sterility is a high priority for any medical and pharmaceutical manufacturer. The inherently sterile nature of stainless steel, and the sanitation benefits of electropolishing, make this high-quality metal ideal for trays used in harsh medical sanitation environments.
Depending on how you plan on moving your trays between processes, you can customize your stainless steel tray for use with conveyor belts, robotic hoists, or manual maneuvering. For example, if you plan to have someone move the tray by hand, select a tray with large handles. If you plan on using a conveyor system to move trays between processes, then choose a stainless steel instrument tray with a bottom that won't catch on other automated equipment.
Why Medical Companies Should Use Stainless Steel Test Tube Racks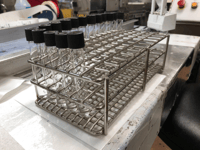 Laboratory test tube racks can accommodate your classic tubes, centrifuge tubes, microfuge tube, conical tubes, and others. But that's not all. They have a greater temperature range than plastic medical racks and other materials, and resist corrosion in atmospheric and pure water environments, as well as most acids, alkaline solutions, and chlorine environments.
Medical-grade stainless steel surfaces are more likely to maintain their original appearance under heat and fire and have greater tensile strength compared to alternative metals and other materials so they won't be compromised by heavy loads. In addition, stainless steel can be coated with plastic to gain the benefits of both products!
Finally, stainless steel is less expensive because Marlin Steel uses simple forming methods whereas most plastics require a custom mold, requiring a high up-front tooling cost. It's also less expensive over time when total life cycle costs are considered because they can be used time and time again.
How Marlin Steel Helps in the Fight Against COVID-19
Now that you know more about our products, here's a little bit about our fight against COVID-19. Vaccine production has been a real team effort with some companies dedicating facilities to assist rival pharma companies in production. American industries have a long history of doing more than just producing products, and Marlin is proud to continue this tradition by providing stainless steel rolling carts used to ferry vaccines from one stage of production to the next.
As highlighted in the Washington Post and Baltimore Sun, Marlin Steel also recently filled a large healthcare provider's emergency orders for test tube racks that were needed to expedite testing, which helped combat the spread of COVID-19 and save lives. We've also worked with other manufacturers to put together 17 vaccination events. Be sure to check out the story from the National Association of Manufacturers (NAM) here!
Bringing Medical & Pharmaceutical Manufacturing Back to America
The COVID-19 pandemic has exposed some insecurities in medical and pharmaceutical supply chains. Much-needed products such as ventilators, N95 face masks, and personal protective equipment were not able to be manufactured domestically since so many manufacturing businesses had moved overseas. These supply chain disruptions resulted in scarcity and a rise in generic drug and equipment pricing due to limited supplies.
As a result, some pharmaceutical businesses are bringing their manufacturing back to the United States. Consumers are expected to be more willing to pay higher prices for American-made goods than for products made in China, offering companies more supply chain security. In case another crisis similar to COVID-19 occurs in the future, domestic-based pharmaceutical manufacturing would be able to be less dependent on international supply chains that can easily be disrupted.
If you're a pharmaceutical manufacturing company considering moving your factory back to the United States or have recently already done so, you may need equipment that will keep your factory as clean and sanitary as possible, and Marlin Steel can help!
Choose Marlin Steel for Your Medical Manufacturing Needs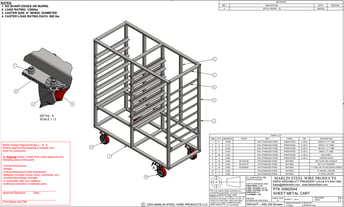 Marlin Steel has years of experience manufacturing sterile, stainless steel medical trays, wire baskets, test tube racks, and mobile carts for a variety of applications in hospitals, pharmaceutical manufacturing facilities, and medical research groups.
Whether you need to sterilize your pharmaceutical manufacturing components or carry parts safely through processes, Marlin Steel has the materials, tools, and expertise to create the best stainless steel medical and pharmaceutical products possible. Reach out to the Marlin Steel team today to get started!