When we look back at 2020, we will look back at it as the year of Covid-19. Hopefully, when we look back at 2021, we will look back at it as the year of the vaccine. The fairly recent approval of multiple vaccines and the increased production means that we should see some return to pre-Covid activities by the all of 2021.

2021 has seen pharmaceutical rivals produce one another's vaccines and companies amp up production in what has truly been a team effort to get vaccines to the public. Situations like this are one of the reasons Marlin Steel is proud to be a part of assisting the pharmaceutical industry in the production of vaccines to help prevent further spread of Covid-19.

Quick Links
What COVID-19 Vaccines Have Been Approved and How Do They Work?
CDC COVID-19 Vaccine Recommendations
What COVID-19 Vaccines Have Been Approved and How Do They Work?
Currently, three vaccines have received emergency approval.

The Pfizer-BioNTech and Moderna vaccines, both with reported efficacy of around 95%, function in a similar fashion. They are mRNA vaccines that instruct cells to develop a protein like the S protein created by the Coronavirus. Your body recognizes that these proteins don't belong and begins to develop the antibodies to fight them. Both these vaccines currently require two doses and have very specific cooling needs to keep them viable. As a result, distribution of these vaccines is limited to specific facilities.

The third vaccine, from Johnson & Johnson/Janssen is what is called a vector vaccine. Vector vaccines take genetic materials from the actual virus, and combined with another weakened virus, are injected to allow one's body to develop an immuno-response. This vaccine requires only one dose and can be stored in a standard refrigerator. It has been found to be 66% effective in preventing Covid-19 with symptoms and 85% effective at preventing severe disease.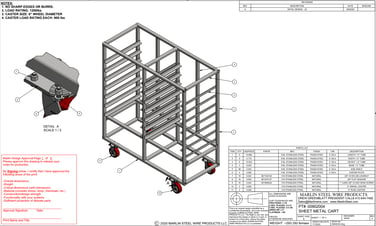 As noted above, vaccine production has been a real team effort with some companies dedicating facilities to assist rival pharma companies in production. And, Marlin Steel has been a proud part of that team as well. Marlin's stainless steel rolling carts are part of the manufacturing process, used to ferry vaccines from one stage of production to the next.

American industries have a long history of doing more than just producing products. In fact, Malrin is proud to continue in the tradition of assisting in efforts to help eradicate diseases and aid in helping America and the world, with American made products.
CDC COVID-19 Vaccine Recommendations
Certainly as vaccine production amps up more and more people will be eligible for vaccinations. However, because supply is still limited in some places, the CDC has provided advice for both the federal government and states on how to roll out the vaccinations.

The initial roll outs of the vaccine were intended to provide vaccines for our most vulnerable populations, decrease the death rate related to Covid-19, limit the severity of symptoms, enable our healthcare system to better manage the influx of Covid patients, and enable some elements of our economy and society to continue functioning.

Currently, in most states, healthcare workers, teachers, individuals 50 and older, persons with co-morbidities and other health issues, as well as first responders should be eligible for the vaccine. While the vaccines are currently approved for use in people age 18 and older for the Johnson & Johnson/Janssen vaccine and 16 and older for Pfizer/BioNTech and Moderna.

However, in an effort to increase vaccinations as we fight against new strains and continued spread, the White House announced the intention to have all Americans eligible for the vaccine by May 1, 2021.

Without a doubt, this increased production and these vaccination goals would not be possible without every part of this puzzle coming together to increase production speed, efficiency, and safety. Again, Marlin Steel is incredibly proud to have its products be a part of this historical moment and to assist in the production of vaccinations which will help us overcome the challenges of a global pandemic.

If you'd like to talk to the Marlin team about how stainless steel rolling carts, medical grade or not, can assist in your production or manufacturing facility, get in touch with our team today. We'd love to help!