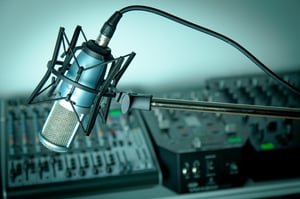 On Tuesday, February 16, Marlin CEO and NAM Small to Medium Manufacturers' Group Vice Chairman, Drew Greenblatt, joined a panel discussion on Manufacturing Talk Radio to talk about manufacturing issues in the state of Nevada.
Elections and Manufacturing
Why talk about manufacturing issues in Nevada? A large part of the reason why Nevada is a hot-button issue for manufacturers is the state's upcoming caucuses.
With an important election coming up, it is, as Drew says in his discussion with MFG Talk Radio, unfortunate that "a lot of the candidates now are not addressing manufacturing topics. This is dispiriting because we have the solution to improve what's happening with the middle class."
Policymakers on Capitol Hill can have an enormous influence on the very viability of the American manufacturing industry, so to hear nothing from them is worrisome.
Manufacturing is of enormous importance to the country's economy, supporting millions of jobs either directly or indirectly, helping to build up the middle class. Because of this, it's vital that candidates are made aware of manufacturing issues before they reach the highest office in the land so they will work to address these issues from day one.
This is part of the reason why MFG Talk Radio is talking about Nevada's manufacturing industry in particular so close to the Nevada caucus. The goal is to generate interest in and discussion about manufacturing among the presidential candidates so that they'll start thinking about manufacturing.
Manufacturing Growth in America
Many people, when they think of the manufacturing industry, tend to think of manufacturers as large, near-monolithic businesses that are huge contributors to the military industrial complex. This couldn't be further from the truth for most manufacturers.
As Drew notes in the MFG talk radio discussion, "a lot of people overlook the power of SMALL… companies with less than 500 employees shipped over 1.3 trillion dollars five years ago, that's the latest data we have."
These small to mid-size manufacturers, put together, moved more money five years ago than the entire GDP of many small nations. To put this figure in perspective, Australia's GDP for 2014 was, according to the World Bank's website, was roughly $1.4 trillion dollars.
That's right, so-call "small" manufacturers in America with less than 500 employees apiece collectively moved nearly as much money as the entire gross domestic product of a major world power.
Every opportunity we can take to grow these small to mid-sized manufacturing businesses is an enormous opportunity for the American economy, because this grows strong, middle-class jobs that pay living wages. As Marlin's CEO noted in the MFG talk radio interview, "they're huge contributors to the economy because they pay out over $231 billion in payroll—these small companies with less than 500 employees."
In fact, so-call small manufacturers are so important to the economic growth and health of the country that the National Association of Manufacturers (NAM) has launched a new initiative to promote the interests of small manufacturers called "The Power of Small." Tom Riordan is the Chairman of this initiative.
Raising awareness of manufacturing issues among voters is the first step to helping grow more manufacturing jobs, as voters take these issues into consideration at the ballot box and vote based, as Drew states, "on the manufacturing issues, and not the bluster" of the candidates.
Benefits of Manufacturing in Nevada
One of the other panelists in the MFG Talk Radio discussion was Collie Hutter, the Chairman of Nevada-based company Click Bond. In the interview, Collie was asked about what benefits manufacturing held for Nevada. Here was her response:
"We started Click Bond in 1987 with five employees… We grew that into fastening systems on almost anything that flies today… Today we have 420 employees, most of whom are here in Nevada. We also have locations in Connecticut and overseas to support Airbus… At one time, Ray and I calculated that we were about 20% of the economy in northern Nevada, but elsewhere in Nevada we're about 2% of the jobs." –Collie Hutter
One "small" manufacturer can make an enormous impact on the economy for a state. Manufacturers like Collie Hutter help bring jobs, industry, and trade to a state's economy, increasing the circulation of wealth.
These workers who earn a living wage as manufacturing employees become the homebuyers, the car buyers, and the patrons of the local economy that drive growth for every industry. These workers, in short, are the growing middle class that manufacturing helps to create.
Check out the Manufacturing Talk Radio website for the full discussion!