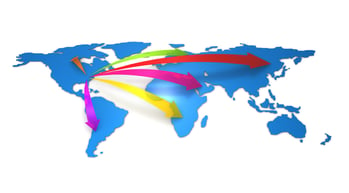 Fun fact: while the U.S. is one of the most populous nations in the world, sitting at the #3 spot behind China and India, only about 5 percent of the world's consumer population is located within the U.S.
According to the U.S. Census Bureau's World Population Clock, as of July 27, 2015, there are roughly 321 million people living in the U.S. However, there are more than 7.2 billion people living on the planet at this time. This means that only about 4.5% of the world's consumer population lives in the U.S.A. (321,000,000 ÷ 7,200,000,000 = 0.045, rounded up to the nearest thousandth).
To grow the American economy and add more jobs, manufacturers need to be able to access the billions of potential consumers that live outside of the U.S.'s borders.
With this in mind, how can the American government encourage the export of American-made goods and grow jobs in the manufacturing sector?
Here are a few ideas from the National Association of Manufacturers (NAM) that can help:
Idea #1: Complete Trade Agreements with European and Asia-Pacific Trading Blocs
Before U.S.-based companies can begin exporting American-made goods to foreign countries, the U.S. needs to have stable trade agreements in place.
For example, the Trans-Pacific Partnership (TPP) agreement would provide U.S. manufacturers with increased access to the fast-growing consumer markets in Asia and the Pacific Rim. This trade agreement will help to reduce the number of obstacles to American-made products in foreign markets, such as tariffs that make exporting too expensive to be reliably profitable.
Trade agreements such as the TPP are critical for giving American manufacturers access to new markets where they can sell their goods.
Idea #2: Enforce Fair-Trade Laws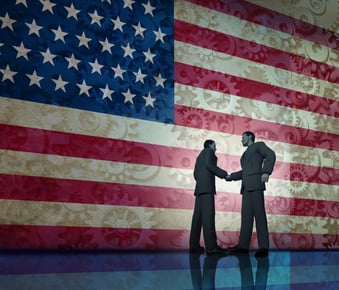 A major part of being able to compete fairly with foreign competitors who already have an entrenched position in their home markets is limiting the occurrence and severity of unfair trade practices.
As stated on the whitehouse.gov website entry about the Level the Playing Field Act, "American manufacturers, especially those competing against Chinese imports, and American workers need a level playing field to compete and win in the 21st century global economy." In short, it's impossible to compete against someone who is not incurring the same R&D costs as you because they stole your IP to make cheaper knock-offs of your products.
By enforcing fair-trade laws such as the Level the Playing Field Act, the American government can discourage IP theft and protect American manufacturers from damage caused by unfair trade practices.
Idea #3: Streamline and Modernize U.S. Export Control Rules and Customs Practices
Time that a load of goods spends sitting in a port waiting to clear customs is time that those goods are sitting dead on your company's books as an expense without a return on your investment. Worse yet is waiting for export control to approve a product for export, when you cannot be sure if manufacturing the part makes sense in the first place.
Streamlining the export control process for goods, especially high-tech products that don't have national security implications, can help speed up the delivery of goods to foreign markets so that manufacturers can have a better time-to-market for their completed goods.
Updating customs practices will further reduce the amount of time that goods will sit waiting to be cleared for shipping overseas.
Modernizing practices for export control and customs should help to make U.S.-based manufacturers more competitive on a global scale.
Idea #4: Provide U.S. Manufacturers with Access to Competitive Long-Term Export Credit Financing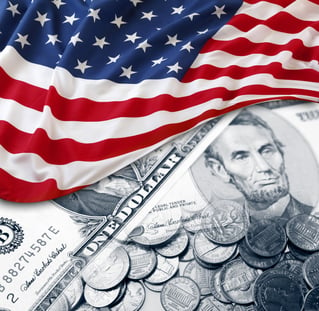 Exporting goods to overseas markets poses a huge financial risk for any American manufacturer. The sheer risk of not getting a solid return on investment for six- or seven-figure plus shipments of goods poses an enormous obstacle to potential exporters in America.
However, this risk is much easier to swallow when companies are secure financially with the help of organizations such as the Export-Import Bank. The Ex-Im Bank provides manufacturers with very competitive long-term loans that most other banks cannot, or will not, match.
Because of this, reauthorizing the Ex-Im Bank should remain a top priority for the government to help grow exports and jobs.
These are just a few of the ways in which the American government could grow exports, jobs, and the American economy outlined by the NAM.
Check out the NAM website to learn more about promoting trade and other important issues for manufacturers.