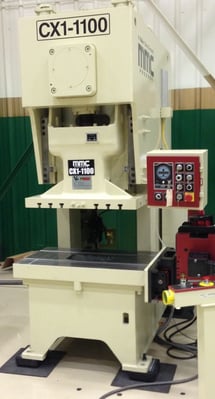 Using advanced factory automation tools allows Marlin Steel's production team to complete custom wire baskets with astonishing speed and consistency. Each custom metal form the team completes in Marlin's Baltimore, Maryland, USA factory location can meet micrometer-precise tolerances consistently because of the company's investments in factory automation.
Using tools such as CNC press brakes, laser cutters, MFDC welding machines, and wire bending robots, Marlin's production team can complete a wide variety of operations with superior precision and speed, right here in America. To help maintain an edge over foreign competition and to expand Marlin's manufacturing capabilities, Marlin's leadership team frequently looks for and adds new manufacturing equipment to the company's shop floor.
Recently, Marlin Steel acquired a new single point gap press machine for shaping steel wires: A Model CX1-1100 automated press from Minster.
What the Machine Does
The MMC CX1-series that Marlin acquired is a 22,000-lb behemoth that can apply up to 121 tons of force to steel wires—roughly equivalent to 60 cars smashing down on a single point. A press force of 121 tons makes the MMC CX1-1100 50% stronger than Marlin's Rouselle straight side press machine. This extreme level of force is needed to ensure clean, fast, and consistent stamping operations, such as:
Piercing. Punching depressions that go partway through a part, or holes that go all the way through so other objects can be slotted into or passed through the wire.
Swaging. Compressing a piece of wire so that it is thinner at one end, which makes it easier to feed into a tube or other opening.
Coining. By using special dies, the MMC CX1-series can force metal objects to conform to a specific shape.
By applying an overwhelming amount of force to a part that is being shaped, Marlin's new MMC CX1 press enables the shaping of metal without the need for excessive heat or other operations—this helps make it so that the part is cool immediately after being pierced, swaged, or coined so that it can be used right away. This helps to speed up production and minimize wait times between this and other custom wire basket assembly processes.
Some Interesting Features of the MMC CX1-Series
Aside from being a fast and powerful tool for consistently shaping hard steel wires into specific forms, the MMC press also has a few interesting features that made it a desirable tool for Marlin's production facility:
Hydraulic Overload System. One of the risks of any high-tonnage press is the chance that the system might overload because of the pressure—applying too much force for the machine to handle and breaking down. There is an automatic pressure relief system built into the CX1-series of MMC presses that comes standard which sends a stop signal to the press control in case of an emergency—eliminating the risk of damage to the machine and injury to nearby operators.
Built in the USA Clutch/Brake & Electrical Control System. Each MMC gap frame press comes with a Wintriss WPC2000 press control system that is engineered and built in the USA to high safety and quality standards. This American-made control system is designed for ease of operation and troubleshooting—as well as long-term reliability.
High-Performance Specs. At maximum tonnage, the MMC CX1 can complete between 35 and 60 strokes per minute depending on the operation. This speed is achieved with a stroke length of 7.09 inches (180 millimeters)—which is comparable to Marlin's Rouselle straight side press machine's maximum stroke length at the same speeds.
Because of the increased strength of this machine over Marlin's other stamping equipment, Marlin Steel's production team will now be able to complete custom stamping operations in a wider variety of steel alloys—improving Marlin's ability to complete custom wire forms and provide top class, made-in-America products to manufacturers the world over.
Curious about how this new stamping machine can be used to help make the perfect wire form for your needs? Or, do you need to speak to an expert engineer to find out what steel basket options are best for your manufacturing application? Contact Marlin Steel today for answers to your custom metal forming questions.