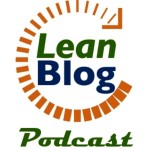 In an interview podcast on LeanBlog.org, Marlin Steel President Drew Greenblatt described how lean management principles helped turn around Marlin Steel.
As interviewer Mark Graban wrote, Marlin "is successfully competing against cheap Chinese imports by using Lean and 'theory of constraints' methods, being passionate about serving customer needs, and making a commitment to (and investment in) ... employees."
"Figure out what are attributes of your business model that clients really care about and invest in those areas so you are the 'best of breed' in your industry for those zones. And stop spending money on all other activities," Marlin Steel's owner described to Graban, who has studied and written about lean approaches in health care and other industries. "In our case, speed of delivery and great quality and innovation in engineering were hallmarks to our success … You have to identify what moves the needle for your clients … and invest all available cash towards that goal so that you differentiate yourself from your competition."
http://youtu.be/Tu1umJ90sGc