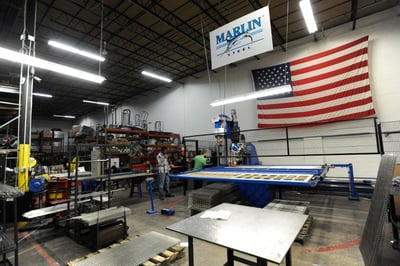 They may say "everything's bigger in Texas," but Marlin's IDEAL medium frequency direct current (MFDC) welding machine might get that phrase changed to "everything's bigger in Maryland."
When Marlin Steel first added the IDEAL MFDC jig welder to its shop floor back in 2014, the team knew that it represented a massive step forward for the company's ability to weld stainless steel. At the time of its installation, it was one of only five IDEAL welding machines of its kind—and the only one outside of Germany. Its direct current welding controller helped ensure that welds could be completed in 2/1,000 of a second; making it 30 times faster than a traditional alternating current controller.
To this day, the IDEAL welding machine remains a key tool on Marlin's shop floor—highlighting the company's commitment to having the best tools, technologies, and innovations for crafting top-notch custom stainless steel wire forms with the pride that comes with being a manufacturer in the USA.
However, there was another record that the IDEAL Welding Machine set—one that Marlin's manufacturing, design, and leadership teams weren't aware of until after the company's Baltimore, Maryland factory was chosen as the site for the Wire Fabricators Association's (WFA's) 2018 Fall Meeting: that it was the largest Jig Welder in North America!
About the WFA and Its Fall Meeting
The WFA is a manufacturing association that specializes in "considering and resolving common problems of operation for the [wire forming] industry, addressing health and safety issues, fostering sound and equitable employment relations policies and producing quality products efficiently and economically."
Its members are comprised of wire fabricating companies of all sizes and specializations. Established in 1976, the WFA has supported wire fabricators for more than 40 years by performing surveys, hosting discussions, and hosting meetings so that members of the industry can learn from one another and grow.
This year's Fall Meeting is taking place at the Lord Baltimore Hotel in Baltimore, Maryland and will include a tour of Marlin's Baltimore factory so attendees can see North America's biggest jig welder.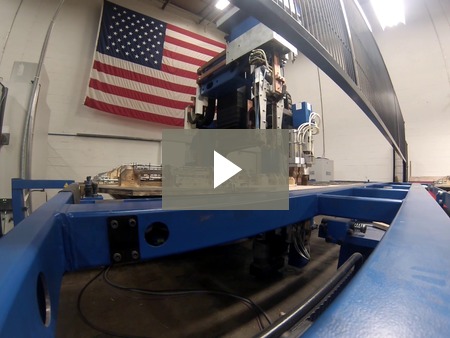 Where Is the Meeting?
The WFA meeting starts at the Lord Baltimore Hotel, 20 W Baltimore St., Baltimore, Maryland 21201.
When Does the Meeting Start?
The meeting is a two-day event taking place this Oct. 16 and 17. You can sign up to attend the meeting on the WFA website.
Why Should You Go?
It's a great chance to interact with other wire fabricating companies, make connections, learn from other industry veterans, and to see Marlin's MFDC Welding Machine up close and personal. Also, you can see how companies such as Marlin are working to bring back American Manufacturing by embracing the tools and technologies that help separate us from our competitors.
Of course, if you want to see Marlin's IDEAL Welding Machine in action, you can always contact us to set up a meet & greet or a private tour of the facility to see what makes American Manufacturing great.