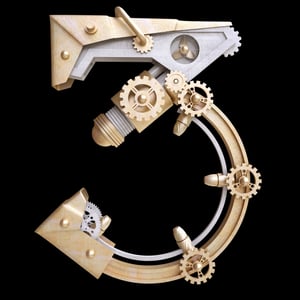 Right now, the outlook for the manufacturing industry in the U.S. is positive. 2014 saw a net gain in jobs for the manufacturing industry, adding 10,000 jobs in total to the industry, the first such gain in nearly two decades.
Confidence is high, investments in business infrastructure are up, and manufacturers are hoping to make 2015 an even better year than 2014. However, there are still many challenges that manufacturers will have to overcome before they can achieve new heights of prosperity.
What are these challenges? How can manufacturers overcome them?
To help answer these questions, here a short list featuring three of the biggest challenges facing manufacturing companies today.
Challenge #1: Lack of Skilled Employees in the Industry
One of the biggest challenges facing any company that requires skilled labor is the general lack of workers with the right skills and experience in the talent pool. Many manufacturers need skilled engineers who have advanced math skills to create parts and systems of parts that can work together. Others might need people with training and experience in programming code to manage the operation of specialized manufacturing robots.
However, while these (and other) manufacturing skills are in demand by the industry, finding qualified applicants in a given region can be difficult. According to a study featured on college.usatoday.com, the top ten college majors in the U.S. are:
10. History
9. English Language and Literature
8. Liberal Arts and Sciences, General Studies, and Humanities
7. Accounting
6. Criminal Justice and Corrections
5. Teacher Education and Professional Development
4. General Biology
3. Nursing
2. General Psychology
1. Business Administration and Management
Of these majors, the accounting major and the business administration and management major both heavily emphasize math skills, but not for calculating the dimensions of a manufactured object. None of these majors prepare students to use or program physics modeling software or repair/maintain automated factory equipment.
Sometimes, there may be potential hires with the right skills for a given manufacturer's needs, but not in the right location.
For example, say that a steel manufacturer has a plant located in Baltimore that's in need of a full-time maintenance tech. This job might be perfect for a recent college grad in Washington State, but the company and the worker might not even hear about one another without assistance from a third-party job placement service. Even if the worker does hear about the job, the long distance from his or her place of residence which they may be used to could make going to a job interview difficult without some guarantee of employment or compensation for the trip.
So, how can manufacturers overcome this skills shortage? One way might be to invest in talent relocation, absorbing the cost of moving qualified applicants to the factory location and setting them up with temporary housing while the new hire is on the trial period. This is expensive and risky for the employer.
Another way to handle the skills shortage is to encourage the employees already within the organization to learn new skills to fill other job roles, so that the less-skilled position which is easier to hire for can be filled. While assuming the cost of the training/education can be expensive, at least you'll be working with a known factor. As an added bonus, this demonstrates that there is room for advancement in your company, encouraging other employees to work to learn new skills.
Challenge #2: Industry Regulations and Red Tape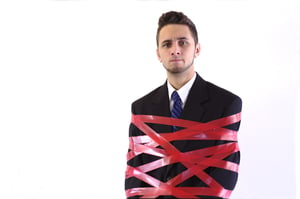 Manufacturers in the U.S. are held to a high regulatory standard. For the most part, industry regulations are there to help protect companies, employees, consumers, and the environment by enforcing certain minimum practices and standards that keep emissions and health risks down while promoting product safety.
However, with the sheer amount of legislation that has been passed by lawmakers on Capitol Hill, some redundancies and inefficiencies were inevitable. There are many duplicate pieces of legislation out there that are designed to address the same issue, but require separate forms to be filed with different offices of the government.
Small businesses are drowning in an ocean of paperwork, and missing the smallest detail can cost a business owner thousands of dollars in fines. For example, Marlin Steel once got hit with a fine worth thousands of dollars for missing one of three signature lines on a 20+ page document.
Having to waste excessive amounts of time handling red tape and worrying about the smallest of errors on paperwork can detract from the time an employer has to run their business, hurting operations and limiting their ability to respond to new developments.
For individual manufacturers, there is no easy fix to this problem. However, business owners CAN make sure that their representatives on Capitol Hill do know how excessive or unnecessary legislation harms businesses and taxpayers, and ask for policymakers to streamline regulatory paperwork and standards so that they're clearer, easier to follow, and less costly.
Challenge #3: Protecting Intellectual Property
For many manufacturers, their company's IP is the secret ingredient to their success. Many companies spend years in R&D to refine their process, software, designs, or other aspect of their business, consuming thousands of dollars to create something unique that gives them a business advantage over their competitors.
When another company can swoop in and steal your IP to put it into practice for next to no capital or resource investment, it can grievously wound your business because this allows the competitor to undercut you on products since they didn't have to spend thousands or even millions of dollars on R&D to develop that piece of intellectual property; R&D costs that your company still has to pay for.
Keeping foreign competitors from pirating IP is a huge challenge for companies, especially smaller ones that lack the political connections and resources that larger businesses might have access to.
Smaller businesses should protect their IP as aggressively as they can, issuing cease and desist notices whenever an illegal use of their IP is discovered. For smaller manufacturers, joining advocacy groups such as the National Alliance for Jobs and Innovation, which Marlin Steel is a proud member of, can be helpful. Groups such as NAJI work hard to ensure a level playing field so that foreign IP thieves cannot profit from your company's hard work, and to keep them from encroaching on your business through their use of stolen IP.
Learn more about these manufacturing industry challenges and how your company can overcome them by subscribing to the Marlin Steel blog! If you want to know more about Marlin's core business, check out the free guide at the link below: