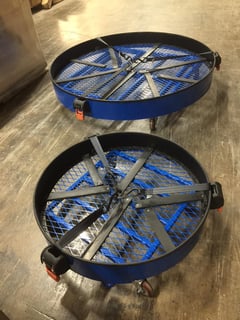 Aircraft are delicate instruments—particularly their engines. In the past year we've seen incidents of engine failures attributable to damages like dents and scratches which impact the integrity of the part. That damage leads to failure and that failure leads to major problems for an airline, the MRO facility, and the manufacturer.

Though they're delicate, aircraft engines still require frequent servicing. Further, proper servicing may demand that the engine is removed from the aircraft enabling the mechanic to access every part of the engine without risking damage to the aircraft's frame. Since most aerospace parts require flawless surface conditioning to operate, aerospace MRO can be a meticulous and time-consuming process.
But, the MRO process doesn't have to be inefficient. Marlin Steel's engineers have designed and patented custom aerospace circular floats to improve jet engine MRO operations. With Marlin Steel's patented circular floats (USA Patent Number 10,286,943, European Patent Application No. 19 170 823.9), you can perform scheduled maintenance and transport jet engines, blades, and vanes smoothly and quickly without worry of damage.
Quick Links
Circular Floats Help Protect Jet Engines During Maintenance
There are a plethora of ways that our patented circular floats facilitate a more effective and safe MRO:
Protecting Jet Engine Turbine Blades
During the MRO process, jet engine turbine blades need to be moved throughout the maintenance facility. This can result in damage to the jet engines if they are not secure. Marin Steel's patented circular floats ensure jet turbine protection in numerous ways.
Moving Cowlings Around MRO Facilities
Make no mistake, one of the biggest challenges to working with large engine parts and turbines is moving them through MRO facilities. In response, Marlin's engineering team made numerous tweaks to the circular float's design meant to address the specific challenges its clients have come across when moving large aircraft turbines around, including:
Added Protection On the Rim and Base.

By adding semi-soft protective coating materials to the bottom of the circular float and its rim, Marlin eliminated the risk of metal-to-metal contact. This helps to ensure that your engine's parts don't get scratched—which saves precious time and money on rework.


Expanded Metal Basket. The open space offered by the expanded metal base provides openings for bolts/debris to exit out the bottom. This thoughtful design reduces the chances of screws scratching the turbine.


Adjustable Straps. A set of adjustable straps was added to the float to hold the engine in place securely as it migrates throughout the plant. This minimizes the chance of the engine toppling over when being moved.


Solid Casters. To hold the weight of a 60" Pratt Whitney or Rolls Royce system, heavy-duty solid caster wheels were used for the float. The straps allow you to safely and easily move your aircraft engines through your facility.


Tug Eye Bolts. It may be necessary to move numerous turbines/engines at once when servicing/refurbishing craft on a busy airfield. Tug eye bolts were added to the design to allow several floats to be connected so that a driver can pull many in one trip for more efficiency.


Perimeter Steel Wall. To protect against inadvertent collisions with other objects, a protective steel wall was added to the side of the float. This is that it prevents damage—meaning, less rework and scrap.
Reducing Rework and Scratching
Marlin Steel's patented Circular floats ensure thorough jet turbine engine blade protection by prohibiting metal on metal contact. There are strict regulations on metal part contact; the FAA requires that jet turbine engine blades and vanes be sent out of commission for repair for even small damage. Our circular floats prevent contact by using neoprene liners and other protective coatings. Each mobile float is coated to provide a safe cushion for the engine that will also prevent engines from being damaged during movement. Additionally, the neoprene-lined rim further ensures no stretching of parts and a soft landing.
Currently, many MRO facilities utilize wooden pallets as a cost saving measure, but they create multiple opportunities for foreign object damage via exposed nails or wood chips. Not only does this run the risk of damaging the part, but it also opens up the potential for significant delays as that part gets quarantined for additional safety inspections. These delays are, no doubt, costly.

In contrast, each Marlin circular float features an expanded metal base that allows potentially damaging debris, metal shavings, and fasteners to exit before they abrade the delicate turbine engine blade parts.
Additional Benefits of Circular Floats
Our custom aerospace circular floats offer more than protection for aircraft parts. They also ensure safety for employees as well, and enable quick and effective MRO servicing.
Employee and Part Safety
Jet engine turbine blades are both delicate and very heavy. This can put strain on employee's backs and can cause injury if parts are not secure. Our patented circular floats help mitigate this problem by facilitating smooth and easier transport for employees. Floats can support weights up to 600lbs, but the superior caster design allows east movement, with a 30lbs push and pull force max on employees' backs. The straps and carabiners ensure each part is secure, so employees do not need to worry about heavy parts, such as a turbine fan blade, falling out.
The neoprene foam liner that trims the outer walls is not just for the safety of the aerospace parts, but also for employees. This soft foam envelopes the top of the sheet metal walls and throughout the bottom, protecting employee hands from harsh metal.
Ease of Transportation
Jet engine MRO can be a lengthy process when heavy and delicate parts need to be safely transported between operations. With circular floats, minutes can be shaved off of MRO processes, increasing overall efficiency. Gliding casters allow a smooth ride for up to 600lbs—which allows employees to move parts through the facility quickly. Additionally, circular floats are pallet jack and forklift friendly.
To make your MRO process even more efficient, circular floats can be outfitted with the "Marlin Pusher," a custom aerospace handle that enables employees to move float through operations seamlessly. The handle can be adjusted for short and tall employees, making it even easier to operate.
Reduced Scrap and Rework
As noted above, several of the features added to the circular floats a were added with primary and secondary goals. For many of the engineering tweaks, the primary benefit is improved safety and integrity, but the secondary impact is that it saves effort and materials on parts that would typically have to be reworked resulting in more scrap, wasted time, and wasted materials.

Specifically, the added protection on the rim and base, where edges might be a concern, was added to alleviate that potential danger. Similarly, the added perimeter wall was intended to prevent collision damage that would similiarly result in reworking.

Any time the process can proactively prevent, through added features, damage and mitigate risk to parts, it's a feature that is considered by Marlin's engineers. Marlin's goal is always to design and manufacture a product that not only does its job, but does so exceptionally well, often performing in a way that's far superior to existing options.
Marlin Steel's Custom Aerospace Stainless Steel
Aerospace grade stainless steel can facilitate better parts cleaning than other aerospace metals, such as aluminum. Baskets and floats made of aerospace steel have strong corrosion resistance and a high temperature tolerance, so they can be continuously used for years

As with all of Marlin's custom steel products, these circular floats are made in the USA to match high quality and safety standards—so you can rest easy knowing you have a safe, top-quality product.
Ready to improve your aerospace operations and increase efficiency and safety for your jet turbine engine blade maintenance? Reach out to the team at Marlin Steel today and learn more about how our patented circular floats can positively impact your aerospace MRO.