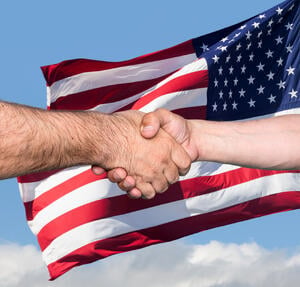 In a recent post, there was a list of reasons given for a company to work with Marlin Steel for custom steel wire basket.
One of the key reasons to work with Marlin given in that post was the knowledgeable, highly-trained staff that Marlin employs to help speed along production and ensure quality.
Considering that we are continuing to grow, and will need more motivated and smart people to help power that growth, it seems like an opportune time to make another list… a list of the Top 5 Reasons to Work at Marlin Steel!
1: Pay Bonuses Based on Performance
If you have the skills to pay the bills, then Marlin's the perfect employer for you. Every pay period, Marlin's work cells each have the opportunity to earn bonus pay based on their performance in that pay period.
These bonuses are earned by meeting special production objectives each week. To tell you the truth, these objectives are designed to be big, hairy, aggressive goals: tough but doable with hard work. These aren't "gimme" goals that you can hit in your sleep.
Because these goals are based on your performance in a single pay period, one crummy week won't ruin your whole bonus structure for the year. Also, since these bonuses are earned by the whole work cell, you can be sure that your co-workers will be working just as hard as you are to make bonus.
2: Marlin Supports You Learning New Skills
Fully 5 percent of Marlin's payroll budget is set aside for helping employees pick up new job skills. Marlin works with local colleges to provide correspondence courses for workers, and offers training programs to help employees learn how to work different manufacturing processes and equipment.
Marlin's goals include having one of the brightest, most highly-trained manufacturing teams in the country to help drive innovation and results for clients around the globe. To this end, our leadership wholeheartedly invests in employee training.
These skills may even help you pick up new jobs after Marlin.
3: Pay Incentives for Learning New Skills
There's more benefit to learning new job skills at Marlin than just being able to beef up your résumé.
For every key job skill you learn at Marlin, there's a permanent pay increase attached. The more you learn, the more you earn.
Also, the tougher the skill is to master, or the more Marlin needs someone with that skill, the bigger the pay increase.
4: Job Stability
One of the key mantras that we follow comes from Eliyahu M. Goldratt: "Excess capacity should be used to grow the business, not lay off workers."
Marlin works hard to cultivate positive relationships with employees, and every last one is a valuable asset to the company. By training employees in multiple skills, Marlin helps make each worker more flexible and helps provide some job security as well.
For example, say that you work in the welding cell, and demand for work in that cell slacks off for a few weeks. Rather than putting welding team members out of work until demand picks up again, they can be put into other work cells that have higher production demands for a while.
This helps keep you working and earning even while your primary work cell is in a temporary slump.
5: Safety
You might be worried that manufacturing is an unsafe, dirty industry where life and limb are constantly at risk. However, this notion is largely outdated.
Marlin Steel works especially hard to make sure that workers are safe on the job. In fact, Marlin is one of only five businesses in the state of Maryland to have earned OSHA's SHARP designation, and has gone through several consecutive years of operation without a safety incident happening at the work site.
Marlin Steel has enabled many safety measures to keep employees safe, including using factory automation to handle the most dangerous assembly tasks, organizing an employee-led safety committee to find and address major safety issues, and inviting third-party organizations to run routine safety assessments.
So, if you're looking for a challenging career that rewards you accordingly, Marlin Steel might just be the perfect employer for you!